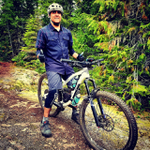 Posts: 566
Joined: Sept. 10, 2012
On a serious note one thing to consider is if you have a direct encounter with a bear that requires you to use bear spray you really need to have multiple cans because the bear you sprayed may not have been fully deterred even if you were able to repel them during the initial encounter. This is less of a concern in a front country setting where retreat to a vehicle is fast and easy vs. a backcountry setting where you might be days away from a vehicle.
I like to carry bear bangers with plenty of cartridges [like 9 or 12] plus one bear spray per person so hopefully several in the group. I've never had to use bear spray in anger, but I have used bangers on a number of occasions and they have been effective at turning bears around at a safe distance from me.
Bear spray has a limited shelf life so check the expiry date before every trip and use expired cans [in a safe area] as practice to get used to how the spray deploys in real life.