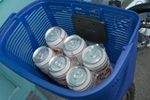 Posts: 0
Joined: Sept. 20, 2006
wow up to $12k already. Maybe some of that could go to Mark Matthews.
Had the same thoughts myself.
Cheers the the support from my biking, non biking and internet friends. It's very over whelming. Ive broken a few here so the recovery will take time but be giving up on my life's passion!
Thanks again.