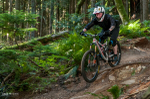 Posts: 2358
Joined: Sept. 5, 2012
Posted by: Bull_Dozer

I've only ridden in the Fraser Valley a few times but as soon as I rode there my first thought was how underrated the area was for mountain biking... tons of great riding but for whatever reason the North Shore & S2S get all the attention and people rarely talk about the Fraser Valley. 

Which trails/routes would you recommend @ Red? Was hoping to check out either Red or Bear in the near future.
A good lap is Bypass trail to the FSR , climb it to Valley View, you can lap around the hill via FSR. Or climb rEDneck to Crazy 8,s /Big Red trail heads. Crazy 8,s is techy , there,s a off shot called Hells Bells. It,s a true black in spots. It ties into the bottom of Big Red . Ride out on BigRed and take the FSR up to Red Rider . This ties into Momentum , and that trail will bring you back to the Bypass trail , or you can tie into TWSS and Moth and ride Dewdney to the pond. I am available Monday thru Thursday to give some tours if you want . All the Valley hills on the Northside are local to me. Vedder and Tamihi are fun as well. Truthfully I have only ridden the shore once in the last 15yrs. Valley has lots going on.