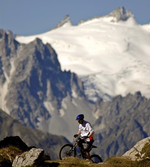 Posts: 1625
Joined: Nov. 23, 2002
This is no word of a lie: having ridden as long as I have there are certain things that I thought were a given I would never see. Ever. Last year I was going up Mtn. Hwy and upon reaching Bobsled I saw a guy going down with, get this, a KID TRAILER attached to his bike with his kid in the trailer. You know, the type that attaches to the rear axle….. I have stopped making any such claims of "I thought I would never" since this clearly shows how groomed things are getting.
bah, that's nothing. back in the shuttle whore days one of the guys took his kid down ned's - on a trail a bike. now mind you it was a foes mono dh so that was like riding a bike with 9" travel fork. only problem was the kid kept losing his grip on the handlebars and pedal. good thing there was a roll of duct tape handy - hands and feet securely fashioned after that!
I wonder how long it will be before I see…….:hurt: It's coming. And with the parking lot, you wait until the handicap parking is enacted, and thus mandates a paved section, and thus, something for the said wheelchair to be able to go down. Give it time.
you can't seriously think this is a bad thing? i think it would be great to see a local wheel-chair accessible type trail on the shore. i would not want to see an existing trail get paved over, but putting in a trail like that would be awesome. from a PR perspective, that would be a huge boon to the nsmba and if they are smart it's something they should get behind and make happen.
Luck is what happens when preparation meets opportunity ~ Seneca