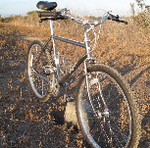 Posts: 1774
Joined: Nov. 8, 2003
Posted by: heckler

Posted by: Vikb

I have dealt with a fair % of e-bikers who simply don't use the derailleur on their bikes and use the power selector instead. Some who were actually surprised there was another speed modulation option.

I've heard this from a certified (usually on a pedal bike) instructor, who only realized her new to mtb students on their E-bikes did not use the shifter to climb a change in grade.  Only the power up button.  

She only realized this once she borrowed a powered bike cuz hers was down at Suspensionwerx. 

The lesson quickly changed to shifting.
This is hilarious. We went out while on vacation this summer on e-bikes for some mellow trail riding with a guide, the most emphasized instruction was to not use the shifters at all, just put it in turbo. 😆