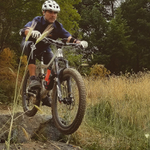 Posts: 1310
Joined: Sept. 10, 2012
Posted by: DanL

Is anyone aware of how E-unicycles fit into any of the motorised vehicle/bike/whatever framework as I see a trio regularly riding on Fromme these days
They are not legal/authorized under any of the Class 1 e-bike stuff. I'd say they are essentially the same as Class 3 e-bike although technically not the same for any legal/trail access purposes. The reality is once you allow folks with motors on the trails policing which specific type of motorized devices are okay and which are not becomes practically impossible [within reason].
I'm not a fan of e-bikes, but if Class 1 are legal on the local trails and someone rides a Class 2 or Class 3 or even a electric unicycle/one wheel on the trails I'm not going to spend my time worrying/doing anything about it and there are no official trail cops enforcing stuff like that.
Last edited by:
Vikb
on June 17, 2022, 9:21 a.m., edited 1 time in total.