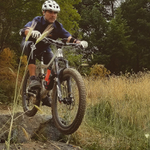 Posts: 1310
Joined: Sept. 10, 2012
Posted by: tashi

Most are related to people being stupid with them if the last couple at SRO's are any indication, but stupid is what people does so they kinda have to be designed around that to some degree.
When it comes to e-MTBs what will be key to fire issues is how people respond to damage/problems with their $1K+ batteries. The "safe" answer would be to immediately stop using a battery that has sustained damage or is behaving unusually under load or when charged. Store it outside and get it to someone that can inspect it and repair/replace it as needed. The real world answer might be put it on the charger in the basement for a few days to see if it fixes itself or keep riding it because $1K for a new battery on a $$$ e-MTB is crazy talk. 
I agree that making things more foolproof would be great. Motor controllers that shut off when batteries are not operating within spec and smart chargers that stop sending power to a battery that's out of spec and throw an error code.