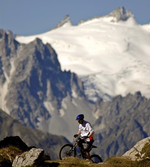 Posts: 1927
Joined: Nov. 23, 2002
Posted by: tashi

I'm in Victoria. If you want to ride a motorized bike here I hope you chat with someone with local knowledge because there are a few areas where motors will just make a bad access situation worse. 

I'm not 100% positive on these things it's true, but it's important to remember that my "sour" tone is entirely related to issues around official access. Not the riders or even the machines themselves (they're fucking fun!) and not even "rogue" areas. 

There's lots of land out there, particularly if you have a motor...
I'm not on an ebike so no worries there. I agree with you on the local knowledge part too, no matter what someone is riding. Having local knowledge is a great way to make sure people get the most fun out of their trip. Have LM's on the island been vocal about no ebikes on their land?