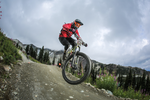 Posts: 133
Joined: Nov. 19, 2002
Posted by: tashi

Accept that things have changed, stop volunteering my time cutting and maintaining trails in official areas...
Pretty much this, have spent decades advocating, planning, maintaining and building for non-moto, believe firmly in that distinction between user types, not interested in volunteering my free time for motorized bike users.
Last edited by:
FlipFantasia
on April 9, 2019, 10:23 a.m., edited 1 time in total.