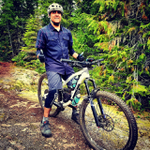 Posts: 833
Joined: Sept. 10, 2012
Speaking specifically about touring I've talked to a lot of cyclists about bike touring over the years. These are people passionate about riding bikes...most who love camping... so you'd think they'd love the idea of bikes + travel + camping and get out there doing it. Nope. I'd say my conversion rate from talking about touring to seeing them tour [and for folks I know in real life I'll offer to go with them]...is well under 1%.
I have no data to back this up, but my hunch is that for the sub-set of people that looks/thinks about bike touring and then thinks if I strap a motor/battery on there it'll be easier/better the conversion rate would be a lot lower. I'm basing that on the fact that bike touring involves solving a lot of issues, dealing with a lot of uncertainty. The "what ifs?" kill people's stoke. Someone who leans towards wanting to make stuff easier/avoid hardship is just going to find that wall of "what if?" a much bigger obstacle. So there is no point getting too deep into a discussion about an e-bike cross Canada trip because it's got a pretty tiny % probability of ever happening.
The only place I can see e-bikes getting frequent used for "touring" is with paid fully supported tour operations. The kind that sets up your tent, cooks your meals, carries your gear, cleans and lubes your chammy, etc... They can provide the bikes, wrench on them and charge them. Those customers are exactly the ones that want to do some "touring", but with as little of the hard work as possible. I wouldn't be shocked if the companies hack those e-bikes with thumb throttles so pedaling is optional entirely. Although I put "touring" in quotes because you could argue this isn't bike touring in any meaningful sense.
Last edited by:
Vikb
on Dec. 6, 2021, 6:50 a.m., edited 3 times in total.