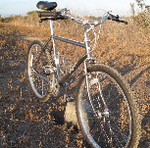 Posts: 1776
Joined: Nov. 8, 2003
What a disingenuous ad that was lol, those poor guys. I didn't even notice my bike weighs 50lbs while taking it out of the truck! Or that incessant whirring sound! Or that my cranks no longer function and are now a throttle! 
Why don't the manufacturers just try advertising them honestly.
Last edited by:
Hepcat
on Oct. 1, 2022, 12:22 a.m., edited 1 time in total.