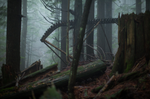 Posts: 14
Joined: Feb. 5, 2021
That's very depressing. That's a huge part of my crew's weekly shuttle gathering.
Agreed.
Its a good test case. If we end up with pressure to turn the zone into Espressos, then the builders are out and NSMBA will have to make a decision to stand firm or not
Its a tough spot to be in, if there is pressure from the landowners there isn't much for the NSMBA to stand their ground on, especially with the builders and their own stated conditions, remember this is the alternative to decommissioning.
DWV very much wanted NSMBA involved in this
I think the outcome of this depends on the DWV's view and expectations of the NSMBA's work/building style. The NSMBA has been on the light enduro/trail riding kick for quite some time now which is not the type of trail the builders and therefore NSMBA want to be creating. If the DWV is so adamant in bringing in the NSMBA its possible that they have seen something like GSM to John Deer with the NSMBA label and are looking for another. (see climb trail installation).
However if they are only looking to sanction these trails just like the rest of the official networks on fromme and seymour - with the NSMBA - I think it would be a great opportunity for the NSMBA to return to the more DH/Freeride side of things (imagine digger getting to build some proper ladder hucks up on cypress in the future!)
right now we need to trust that people will follow through with what they said. I believe that they will.
Me too, cautiously optimistic for the short term and stoked for the long term if it means the NSMBA can be let loose with the gnar
Thanks for the info Ddean
There's nothing better than an Orangina after cheating death with Digger.
Last edited by:
Abrenus
on Oct. 15, 2021, 10:50 a.m., edited 2 times in total.