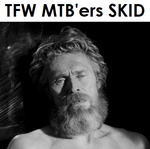 Posts: 2470
Joined: Nov. 23, 2002
Posted by: tashi

Posted by: syncro

Posted by: tashi

The sponsors don't care, particularly the local ones with "cred".

The market rewards this behaviour so they'll keep it up until it doesn't.

That's were "we" come in. We need to make it so it isn't rewarded, so it's not cool. If enough people object then the sponsors might pay attention. While our current media age is fraught with issues, it also has the power to bring poor behaviour to heel.

And yet, with all the people on this board that know who he and the company are they still haven't been named. 

Looks like the Thin Bro Line is holding up.
I guess they don't want to look uncool for talking about things they think are uncool. Is that uncool?