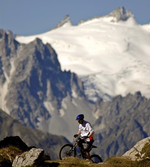 Posts: 984
Joined: Nov. 23, 2002
Now that 29'ers are more capable and seemingly more out there, is there much of a debate as to which is better for classic shore riding - ie techgnar? I thought I'd post this here vs gear forum as I'm thinking specifically about Shore or S2S riding. Is it down to simply rider preference? Does rider stature matter? My 29'er isn't of the ultra moderne geo spec so I can't really make a comparison to what I've ridden. Although I have a bud who's picked up a new Orbea Rallon who's really liking it but has noticed a few drawbacks compared to his previous bike a Norco Optic. He was on a Warden before that but wasn't fond of it due to the lack of poppiness as he's a bit of a jumper.
Luck is what happens when preparation meets opportunity ~ Seneca
Last edited by:
syncro
on Jan. 21, 2021, 8:56 p.m., edited 1 time in total.