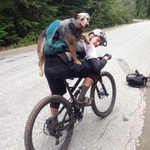 Posts: 20
Joined: April 23, 2008
Posting for a friend. She was moving house in whistler and had her bike in the hotel lockup at work. Unfortunately some guys broke in and stole it.
2016 LIV Intrigue SX
Mostly stock parts with
- xfusion dropper
- xt clipless pedals
- ethirteen chain guide
- maxxis tires
- 180mm rotors (160/120 stock)
Please keep an eye out.