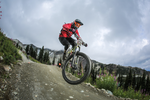 Posts: 133
Joined: Nov. 19, 2002
If we don't get some snow soon I might need to actually sharpen my edges for the first time since leaving Ontario.
I would say yes based on my experience Sunday afternoon, although looks like freezing levels are rising, so maybe we'll be okay! hahah
what I don't get is who thinks it's smart to run hordes of ski school classes when there's 3 runs open, holy f'ing gong show! WRD indeed….