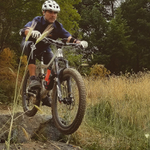 Posts: 2179
Joined: Sept. 10, 2012
I got out for my first day of snow sliding of the season Sunday. I snowboarded a ton for 10 - 12 years back when you had to check if you were allowed to ride at each resort. I have to say these days my desire to buy a ticket, line up with a bunch of people, sit on a chair lift and then cruise down a run...is pretty limited. Why bother? Entirely because my GF wants to do it. She does lots of sporty stuff I want to do so I figure now that we live 30mins from a hill I can't really say no if she wants to ski. I didn't touch a snowboard for 10 years and just have a couple days in the legs since we moved to Comox. So in that respect it's good for team morale that my GF has to wait for me and make sure I'm okay. 
I bought a six pack of tickets so hopefully by the end of this winter I will have busted all the rust off and be back to my previous level of skill.
That said I have to admit I was thinking "I'd rather be riding my bike!" a bunch yesterday.