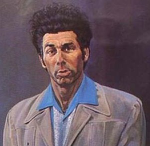 Posts: 258
Joined: Nov. 23, 2002
Anybody else picking up new winter gear? 
I'm ditching the sticks and going back to a board. I just haven't been able to put in enough time on the skis to get my skills to where I want them to be to be able to have fun. I pick up a great deal on the new K2 Ultra and some skins to match for under $500. I'm thinking about springing for some Phantom hardboot bindings too as I'm keeping my Dynafit boots. Anybody here have experience on them?
I'm not a human in real life, I just play one on the internet.