Posts: 2064
Joined: Nov. 19, 2002
So the RV dirtbag splitboard crew had been hanging out in Terrace at Shames ski hill while waiting for the weather window to get up there. The weather had warmed up and socked in for almost a week and we were getting pretty low on stoke to go riding, knowing that all we wanted was some high alpine big lines. To find some better snow, we decided to head north to find some riding near Stewart, BC.
The Cambria Icefield, near Stewart, is the coast mountains equivalent to the Columbia Icelfield; the bear glacier drains right down to the highway of bear pass at 400m. Bear pass is known as one of the most dangerous pass in Canada for avalanches with regular class 4 slides that bury the highway upto 21m deep that can close the it for days. Lots of mature timber was snapped like twigs this year down on the highway by huge slides. If you haven't seen this place for ski touring or sledding, you need to go. The terrain is HUGE!
DAY 1
View of overhanging glaciers from the Highway: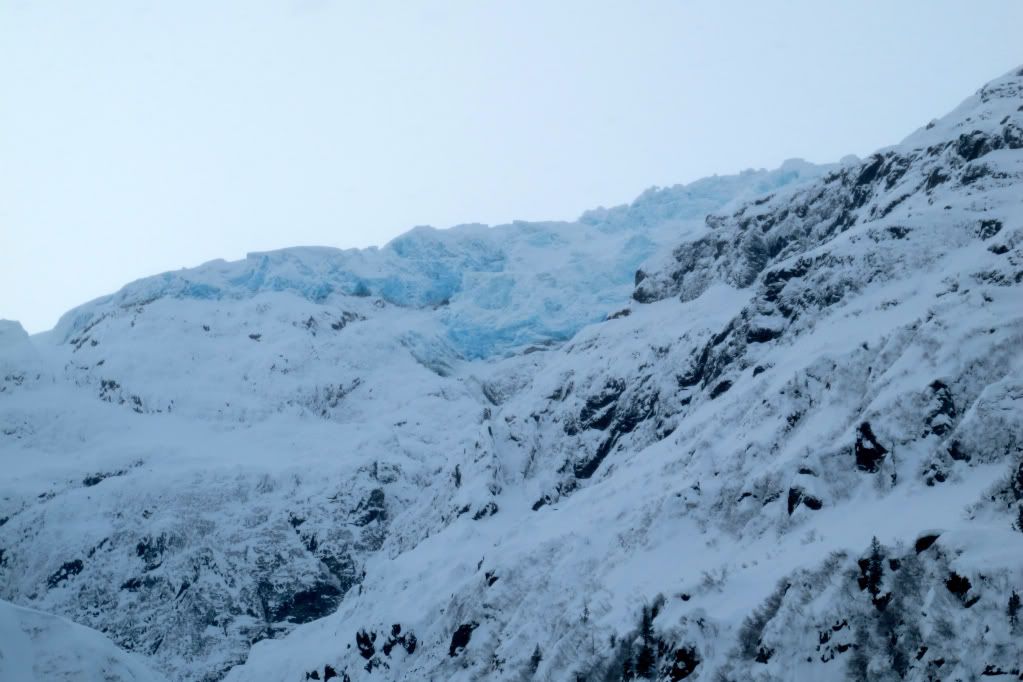 Glacial Ice in the avi debris right on the highway. We scavenged some in the RV for some drinking water one night. Delicious

Year round avi danger….this place is rowdy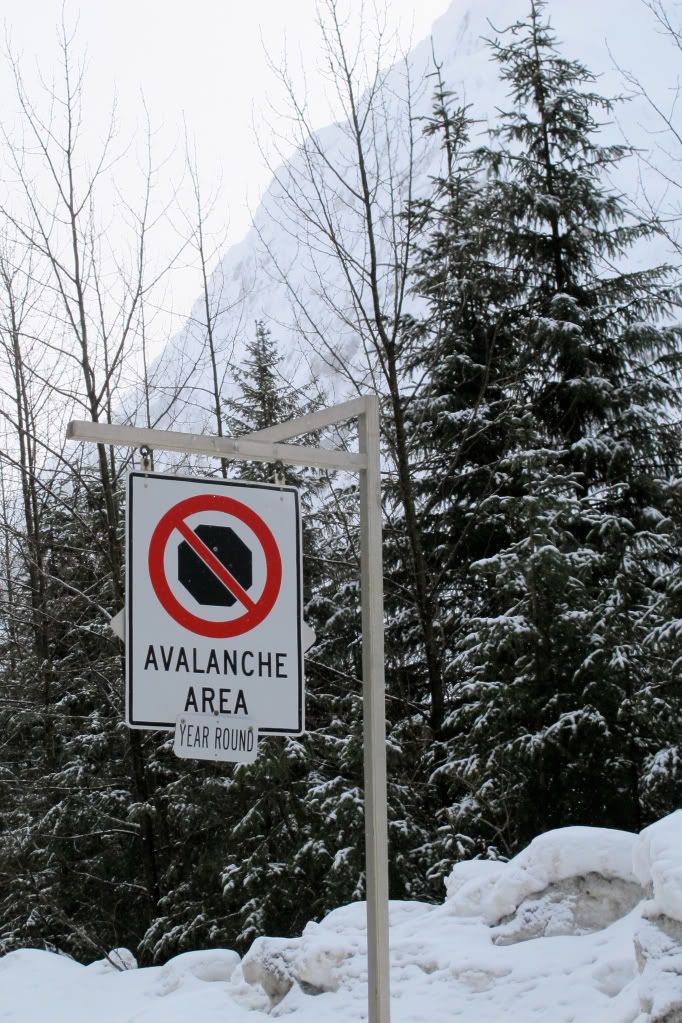 So we got our window and packed our gear for about 5 days hoping the weather would hold.The 12km bear Glacier starts at 400m and rises up through numerous slides paths and icefalls to meet the Cambria icefield at 1800m.
Getting ready for a big carry up the Bear GI. What a slog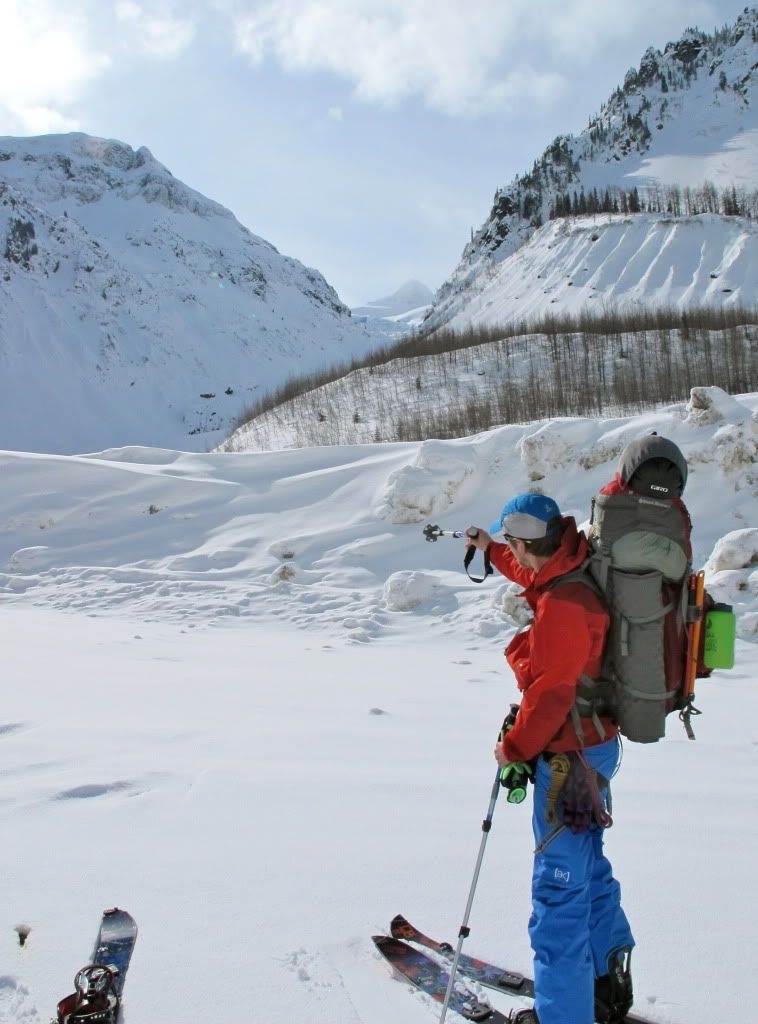 View of Bear GI and Mt Cambria 2377m from the highway

Some big slots on the Bear Glacier…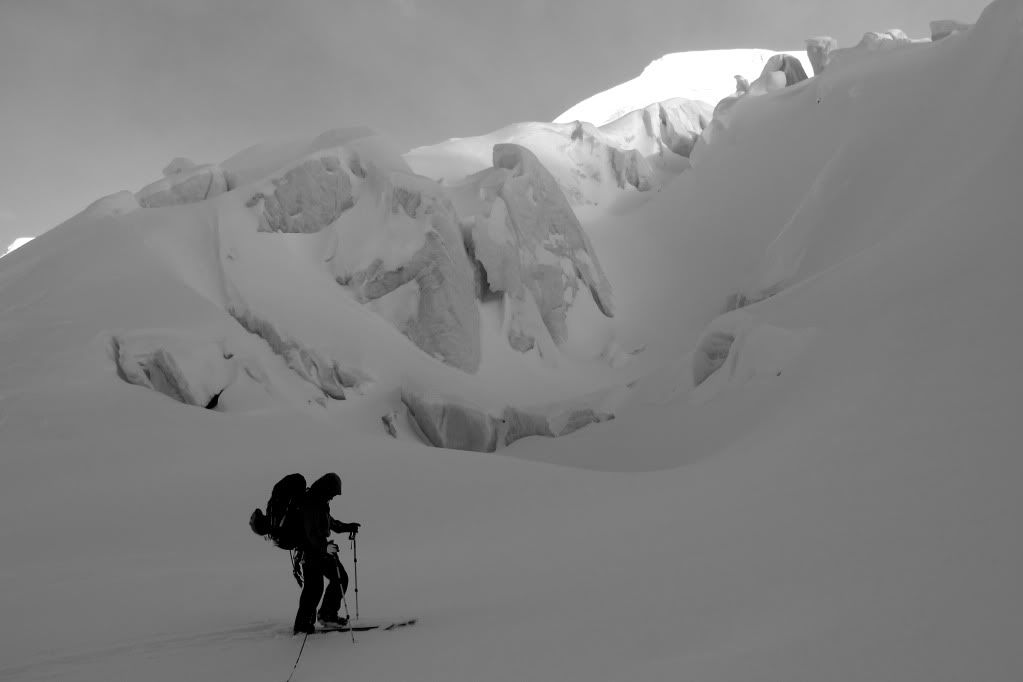 The initial climb took us 6 hours and we were lucky to have a gps track to go off from our friends Lee and Sharon.
Me probing the flat spot at top of bear GI at 1750m where we set up camp. Todd GI viewable across the valley

By the time we were set up it was almost dark and time to build a quick kitchen, then hunker down for a cold night,temps where in the region of -15 to -20c at the night the 4 days we were there. Miserable sleeps every night!!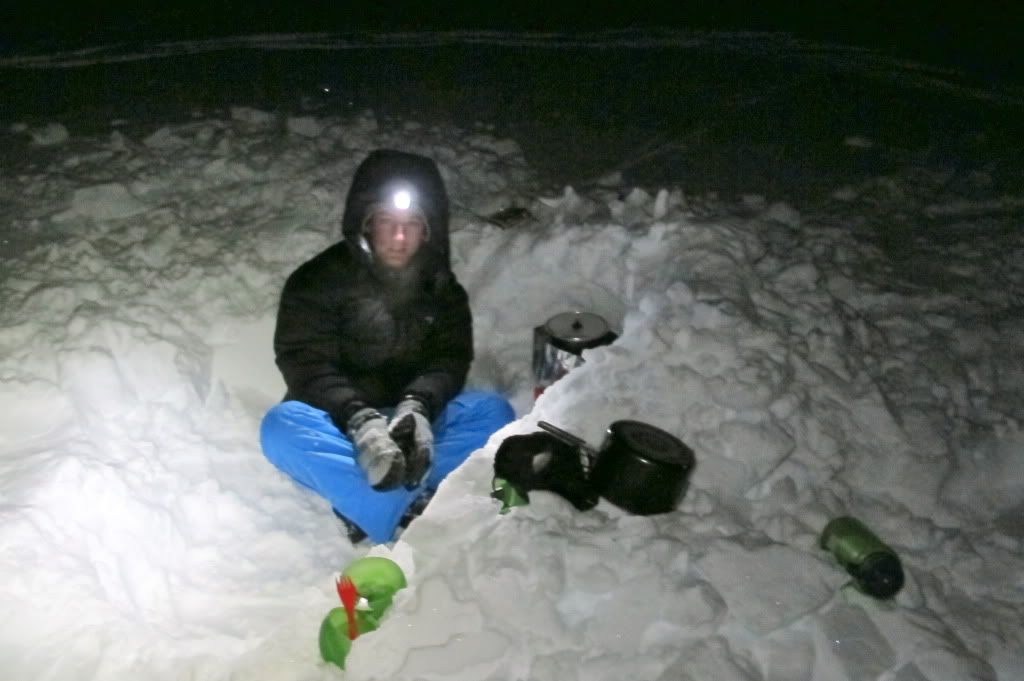 DAY 2
Next day it was time to tackle the beast that is the North face of Mt. Cambria, right above our camp.

We skinned up onto the main icefield and then around the south face where we started to bootpack,camp is a speck in the distance now…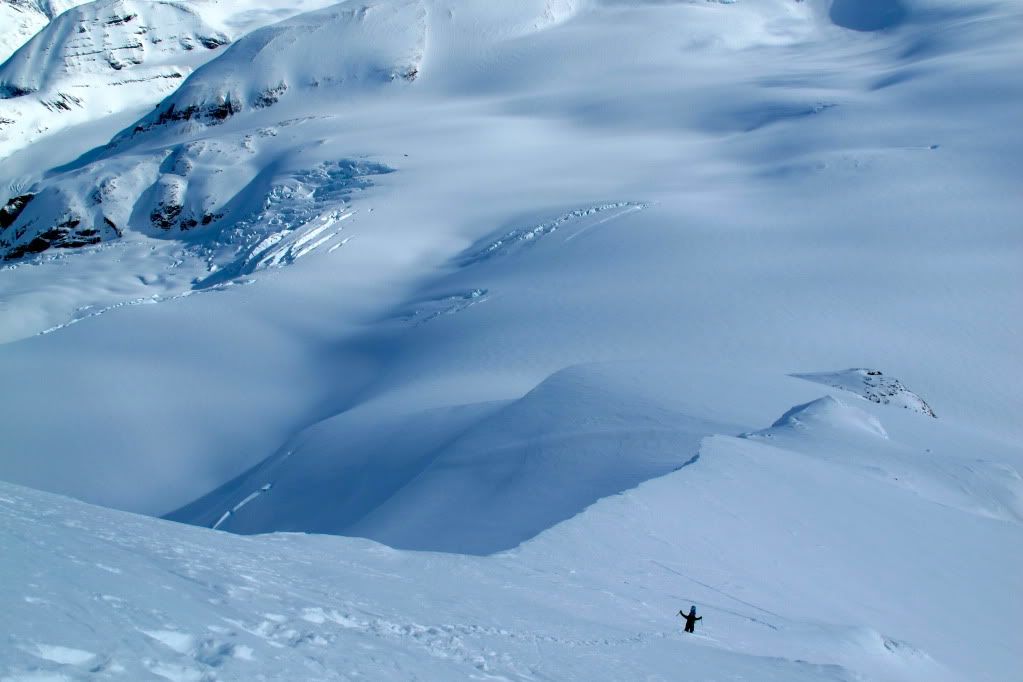 View from top of Cambria across the Cambria Icefield to Mt. Otter 2650m-
View down the 600m North face of Cambria, 60+ degrees at the top, mellowing to 55 and 50 at the bottom. It took us awhile to pump ourselves up to drop in on this thing…the biggest line of our lives. The snow was perfect and things were stable, but we knew this thing would sluff hard and it would be a steep, out of control run. After almost an hour of eating lunch and throwing blocks down to check the sluff, we were ready to rip it.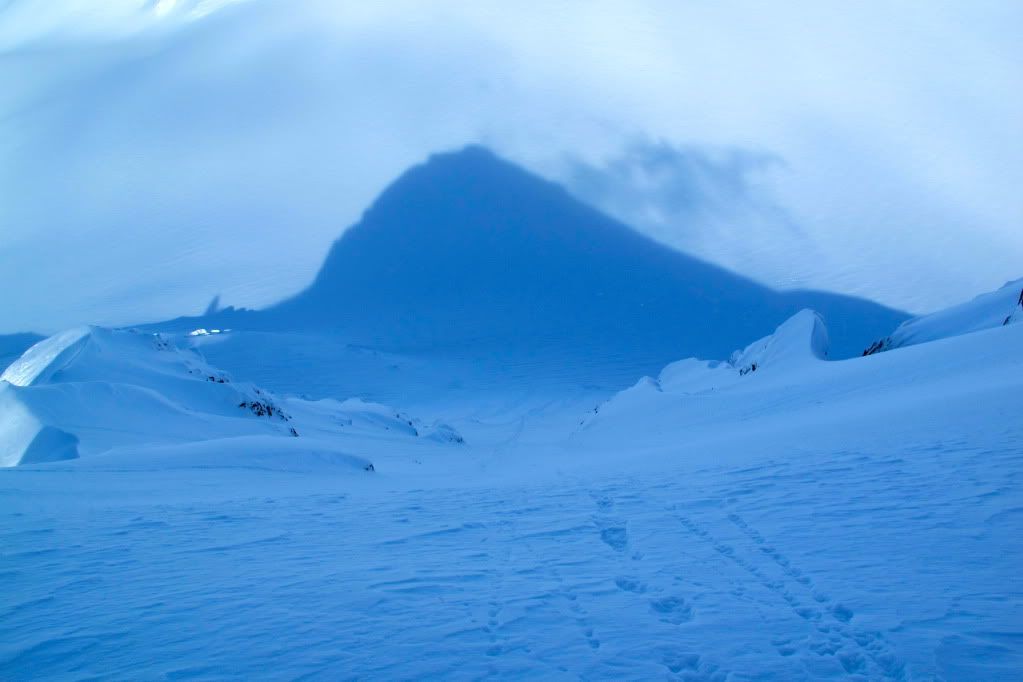 I dropped in first and we both had to pick our way down the first section before it opened up,but we bagged it and were pretty stoked! It felt like forever, but it was one quick ride to the bottom. See the video for some action!

The mighty north face of cambria viewed from Disraeli the next day. This thing is the crown jewel of the cambria icefield and we were pretty lucky to show up when it was in all-time conditions. Definitely the most committing line of our lives

DAY 3
We headed west across the top of Bear GI to Disraeli peak (2250m) to have a look at the NE face as it seemed (from camp) to have a nice pitch that looked ripable.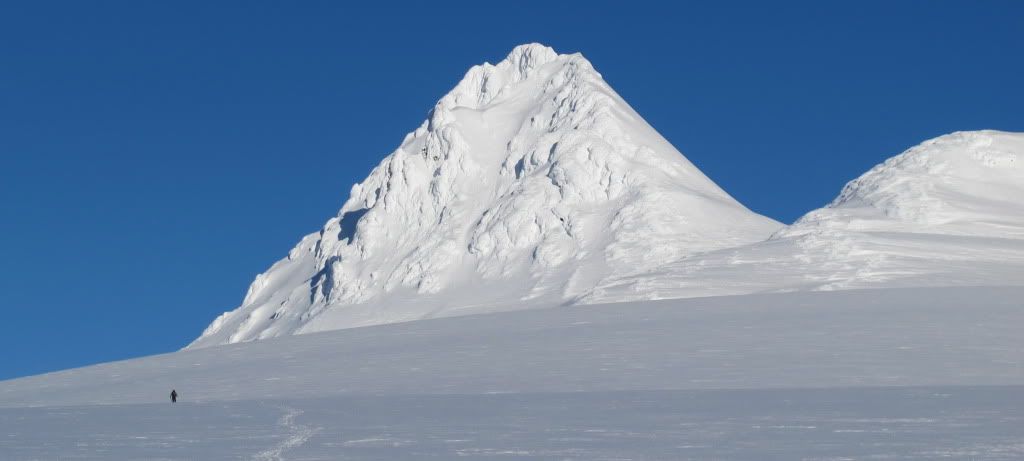 Ohhh yeah it was primed and in the sun too. This one looked more mellow than Cambria because it was more open, but standing atop a 55 degree face with a shrund at the bottom is still unnerving…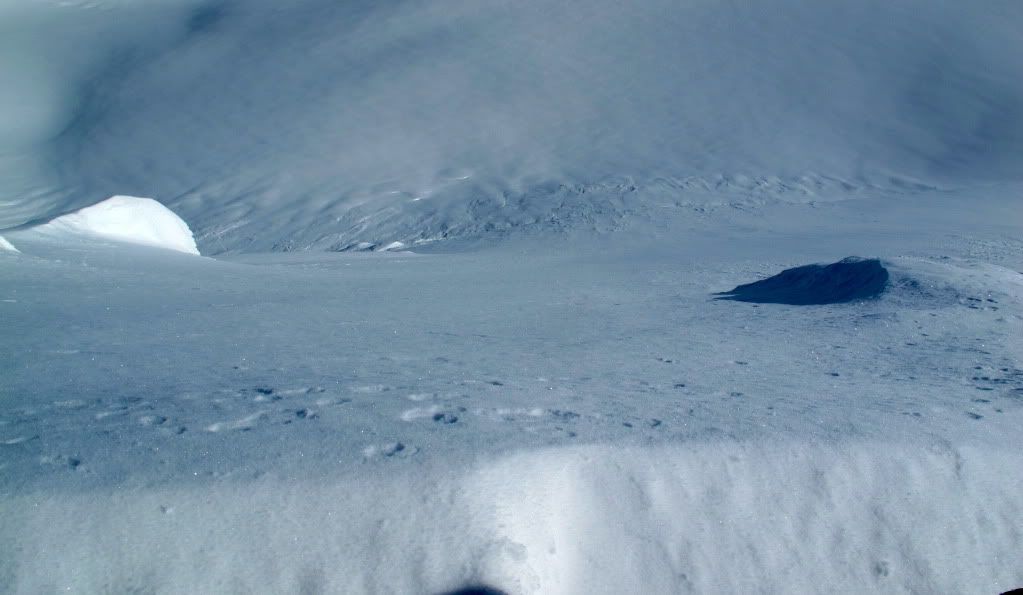 This was a fun face with more great snow. Although we were both scared at the top, once you drop in and start shredding nothing else seems to matter.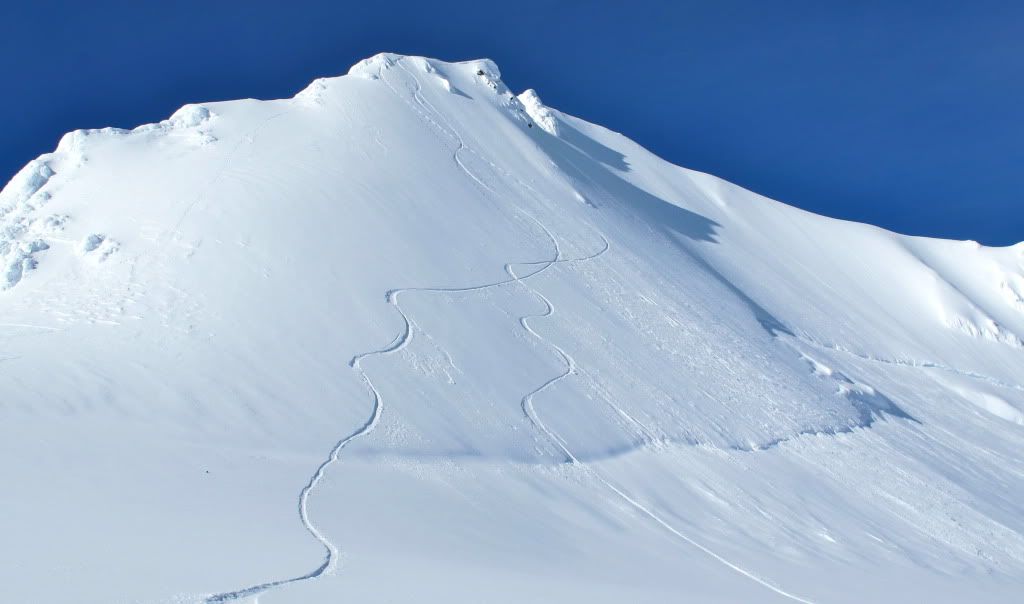 It was so good we headed up for another lap. All time.
Climbing through the rime at the top made for a few tense moments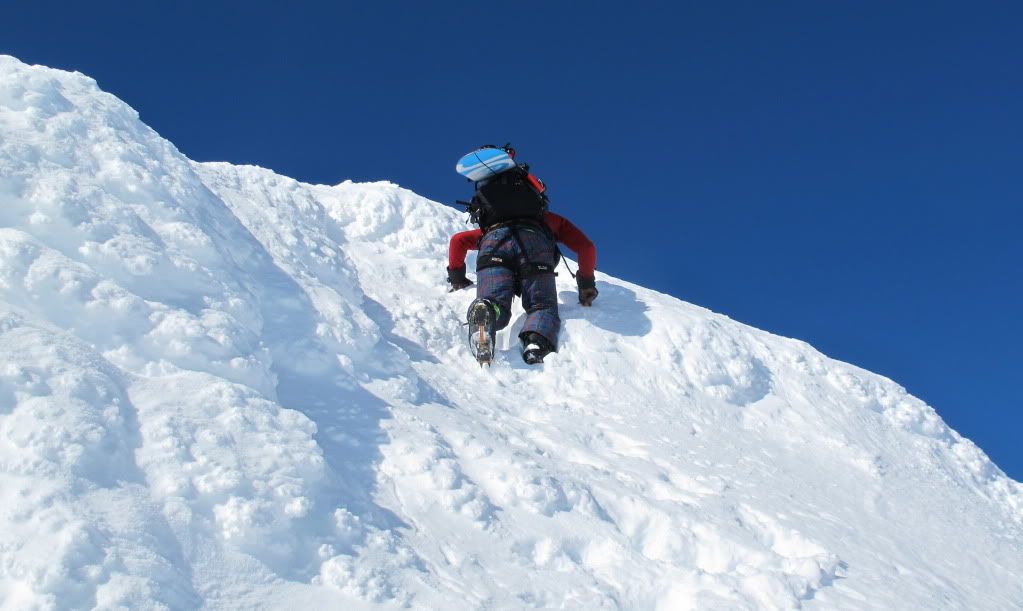 Heading back to camp with the stoke high. Success again!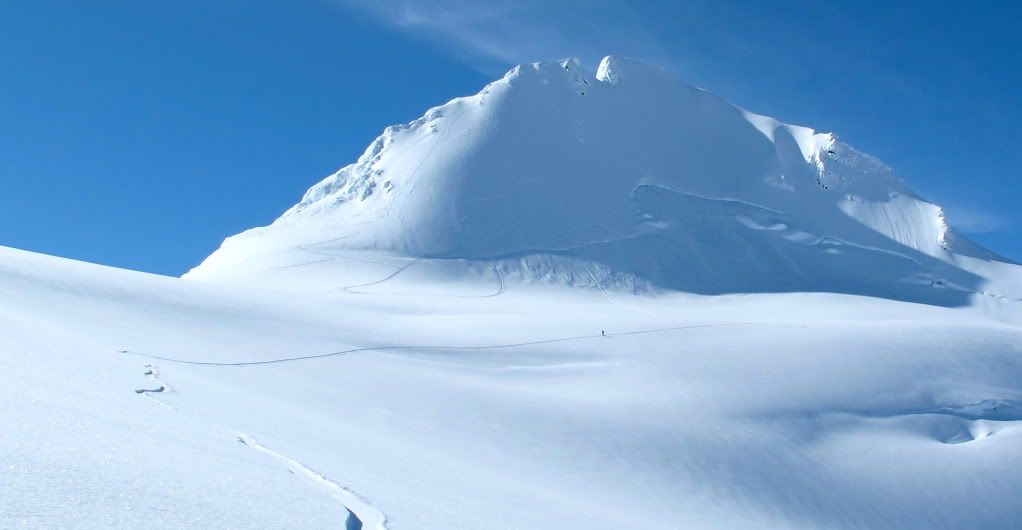 DAY 4
After 2 big times faces conquored near camp, we decided to head up the icefield further and explore for possibly a more mellow run.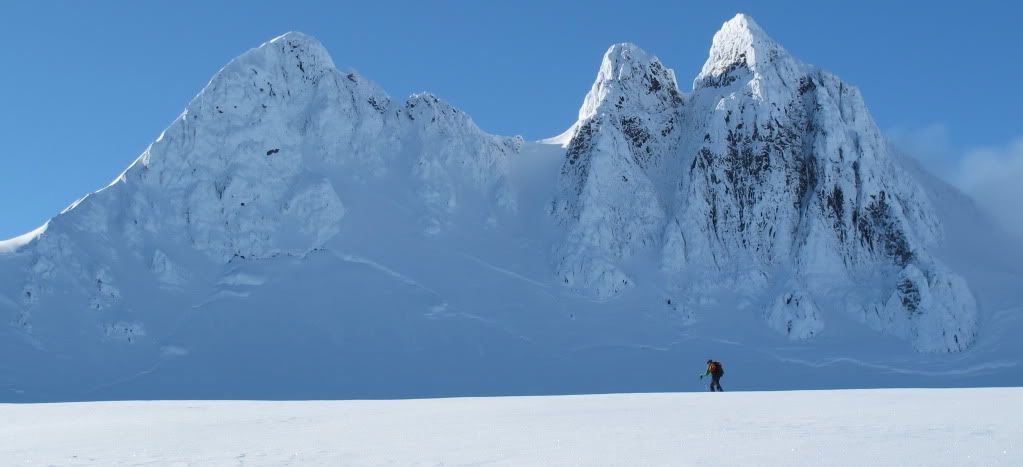 An hour into our walk, we spotted this beauty near Mt. Otter and decided it needed to be slayed. Some unnamed peak 2438m, just to the north of Mt Otter, with a really nice SE face. So much for a mellow climb/run…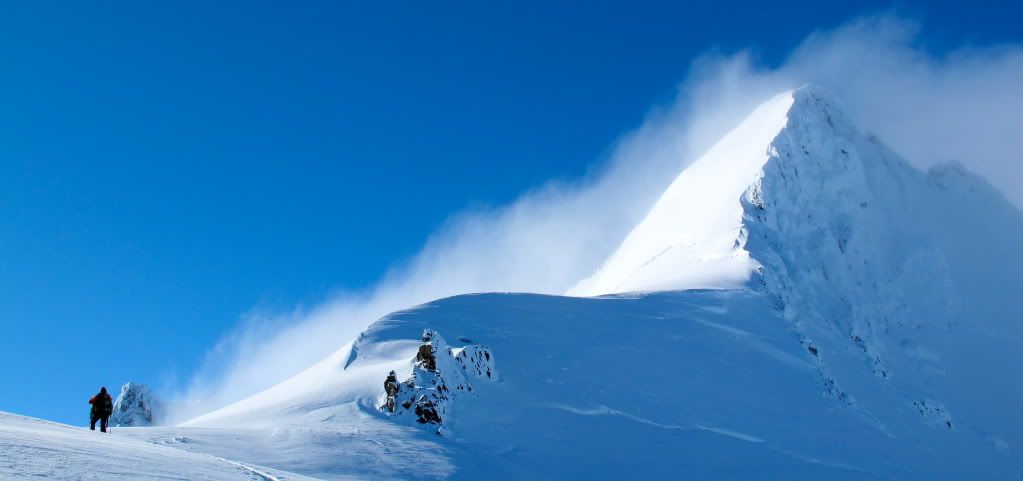 This was a harder climb with a mandatory belay over the shrund. The top of the climb involved some wallowing in facets due to a poor route choice, but we made it. Yet another stunning view of Otter to the south: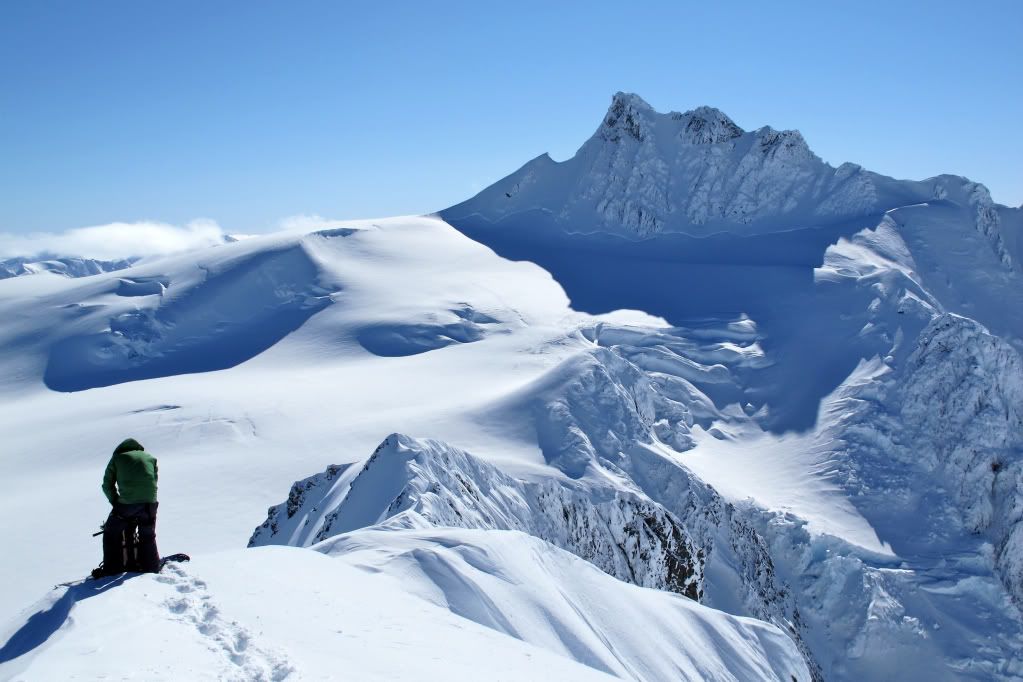 Gavan ready to Drop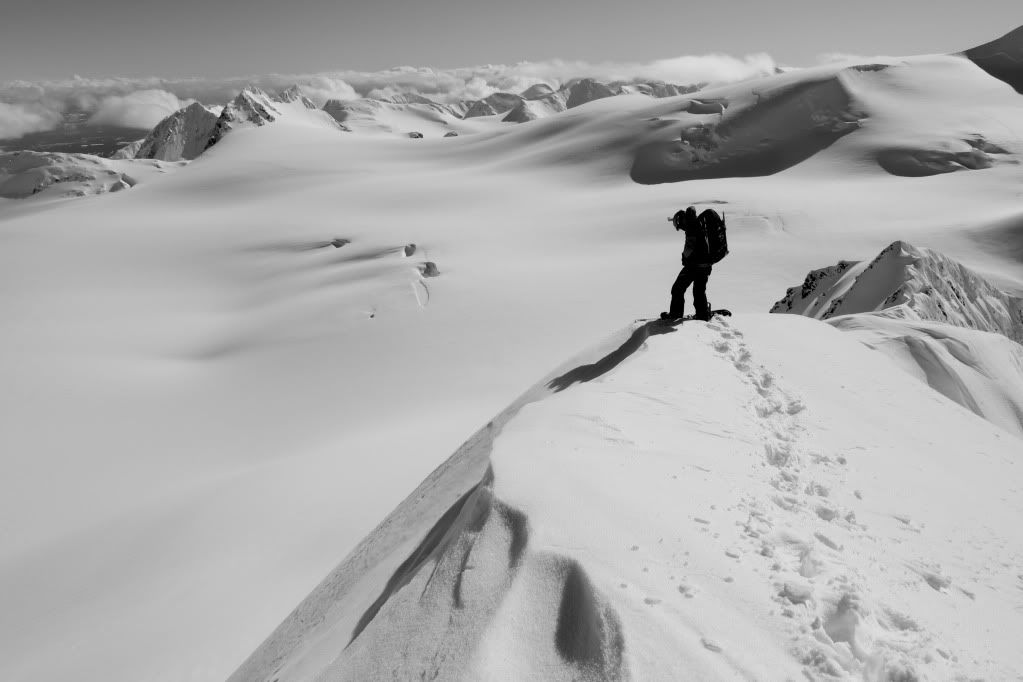 More blower pow…Steep Faces…In the sun…Coast Mountains…Pure awesome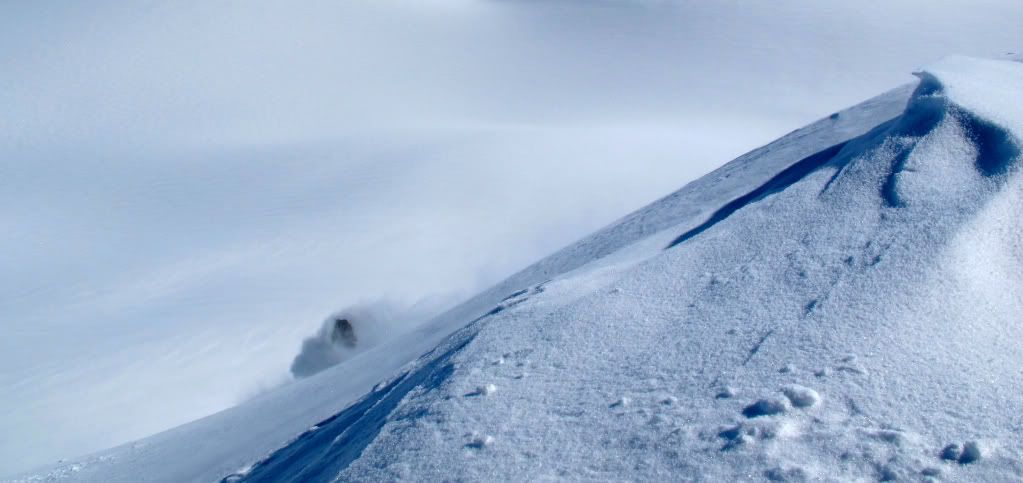 All-time drop in

Claimed!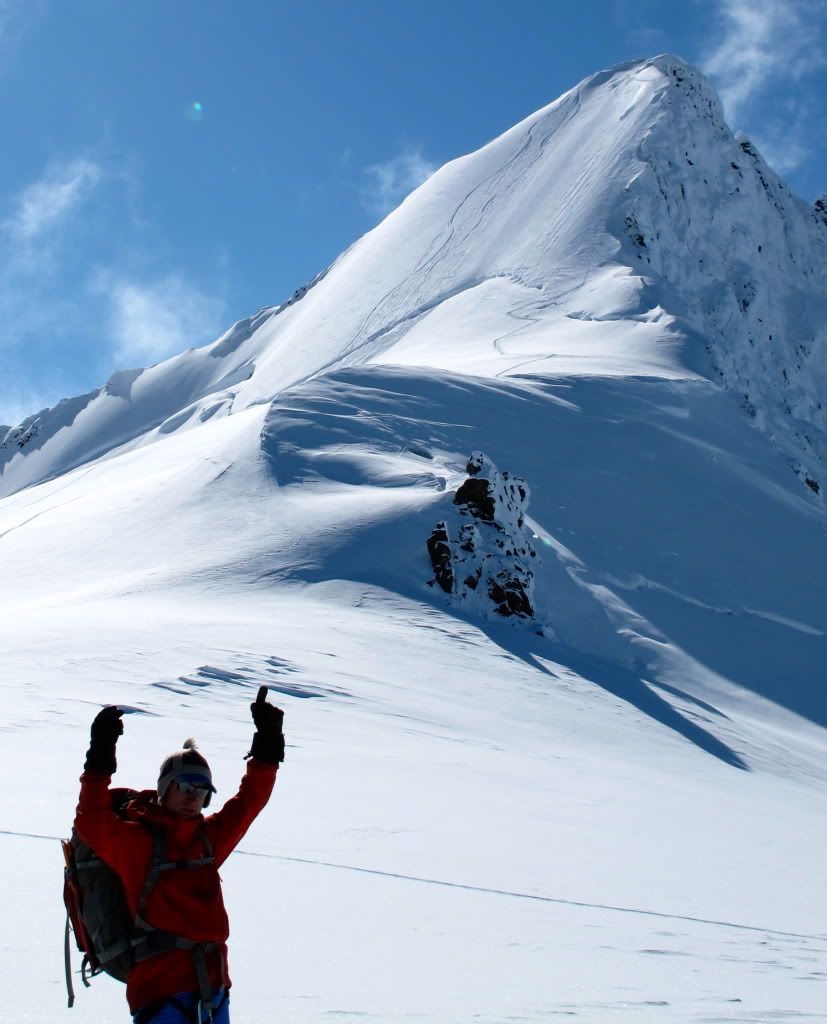 Then a light glacier skip on the way back to camp

And a long video (hopefully worth the watch) of some of the action. Definitely some of the best footage we have ever put together!
https://vimeo.com/39016566
We nailed this trip for weather/snow, I cannot possibly imagine better conditions for this place (except for the frigid cold sleeps). We are back in Terrace for a few more days at Shames before we head off on the ferry to Haines, AK on tuesday. Then we have 3.5 weeks worth of time to get out and base camp in Glacier National Park, so more pics/videos to come in May.