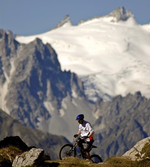 Posts: 1769
Joined: Nov. 23, 2002
[edit]
ok it looks like i might be adding utah and colorado to my trip.
obviously moab and fruita are places to check out, but i'm wondering about weather.
i couold be in colorado the week of oct 1-6 and am wondering if snow/cold will be a big issue. if i hit moab on the following week, oct 7-12, am i going to run into issues there?
right now a potential intinerary looks like:
Wed, Sep 26 South Lake Tahoe
Thu, Sep 27 South Lake Tahoe
Fri, Sep 28 Downieville
Sat, Sep 29 Downieville
Sun, Sep 30 Travel
Mon, Oct 1 Moab
Tue, Oct 2 Moab
Wed, Oct 3 Travel
Thu, Oct 4 Fruita
Fri, Oct 5 Fruita
Sat, Oct 6 Fruita
just wondering if i should skip moab on the way to colorado and hit it on the way back instead so ill have more time.
thoughts?
[/edit]
i'm going to be in california in about a month and wanted to get some info on riding down there.
where's the place to go for some quality am riding? looking at anywhere between LA and the can/usa border andI will have a minimum of 4 and up to 10 days (not necessarily consecutive) available to ride.
what are the best best for cali/oregon/wash?
Luck is what happens when preparation meets opportunity ~ Seneca