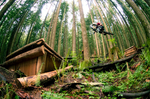 Posts: 2045
Joined: Jan. 5, 2010
Would anyone like to shuttle on the sunshine coast this weekend?
I have an SUV with a 4-bike North Shore Rack. I'll be riding solo.
I pedaled around the Roberts Creek area last weekend, and will likely do so again unless someone would like to shuttle it with me. I'm open to try other areas as well.