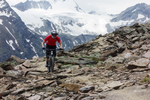 Posts: 106
Joined: June 17, 2016
To my partner, kayaking is what riding is to me. Therefore, we are always looking for spots where we can do both. Our ideal spot has:
Access to calm waters (lakes, inlets, bays, etc.)
Access to mtb trails
Parking nearby
Bonus for camping nearby
As my partner doesn't drive due to a medical condition, we strongly prefer places where we can just park and both start and end our journey right there.
So far, we really like the following spots:
Deep Cove 👍
Close to home, and we have a go-to spot that is usually quiet and has parking right at the beach.
She can paddle Indian Arm, mostly calm water, lots of little spots to paddle to (islands, beaches), lots of sea life (seals).
I can ride Seymour, end with a Darkside lap and finish at the beach, awesome.
Porpoise Bay, Sechelt 👍
Provincial park with camping, beach, showers.
Beach access straight from the parking/campground.
Coast Gravity Park is close by, possible to ride there from campground, the road climb sucks but there is a good chance to get a lift from other CGP visitors. Ride a little bit further for Huggies which descends all the way back to the campground, awesome.
Ideally, the paddling partner shuttles the riding partner up to CGP and drives back to the PP.
Ellison Park, Vernon 👍
Provincial park with camping, beach, showers.
Beach access from campground, requires short hike down steep path.
MTB trail access from campground, connects to Predator Ridge trails, awesome.
We both liked Kalamalka Lake, Vernon 👍 and Three Blind Mice / Okanagan Lake, Penticton/Naramata 👍 but didn't find a good parking spot yet where we can easily start and end both our journeys. Any tips welcome!
We didn't like Golden Ears PP / Alouette Lake 👎. There are some trails open to bikes but they're not that good. Kayaking on the lake was OK although it was very windy.
One potentially good spot is Comox Lake near Cumberland. Looks like there is a private campground. I know the trails are good, anyone knows how the camping and paddling are?
If you know any other good spots in BC or WA, please share!
Thanks!