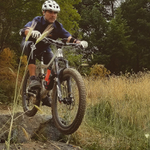 Posts: 1735
Joined: Sept. 10, 2012
I'm organizing a NSMB Meet Up in Cumberland over the 9 - 11 June 2023 weekend. This is not an official NSMB event. Just folks who hang out on the forums and want to meet up for some social riding, camping and hanging out.
I booked site 202 at the Comox Lake Campground. The map above shows site availability at the time I posted this. If you want to stay at the Riding Fool Hostel or at an AirBNB/hotel that works too!
Cost is free. Just show up with a bike that mostly works and enough fitness to climb to the top of the Cumby trails.
Riding will be Blue/Single Black TechFlow. Interesting, but nothing deadly. Pace will be social/no drop. We can adjust plans a bit when we see who is interested.
On the off chance someone from further afield wants to attend I can pick you up at the airport and shuttle you and your bike around.
Last edited by:
Vikb
on March 3, 2023, 9:01 a.m., edited 2 times in total.