Posts: 11680
Joined: Aug. 11, 2003
I didn't know what forum to post this in.
Preface: If anyone has forgotten what the sky looks like behind all that cloud, then it's something like this: Myself, Fluid, CraigH, CraigH's better half went to Vegas this weekend to meet up with Connie from Utah and ride some bikes, and prove that classic XC riding is still a blast.
Day 1: Cottonwood trails, Red Rock.
The four of us rented some Blur XCs and after about 300 U-turns courtesy of Vegas's totally crap road signage, we unpacked and geared up outside McGhie's outpost in Blue Diamond, and started riding. It was a nice warm up to get aclimatised to the altitude, dry air and heat. About 15km loop through the desert, mostly hard packed but with a few nice climbs, swooping descents and lots of sharp nasty looking plants.
What we didn't realise was that the whole time we were riding out, it was a steady climb, so when we started the return trip it was about 5-6km of gently downhill winding desert singletrack; a nice way to end the day.
CraigH enjoying a little downhill stretch.

Fluid and Ina on the last climb.

Myself, Craig, Ina and Connie enjoying the only shade we found all day.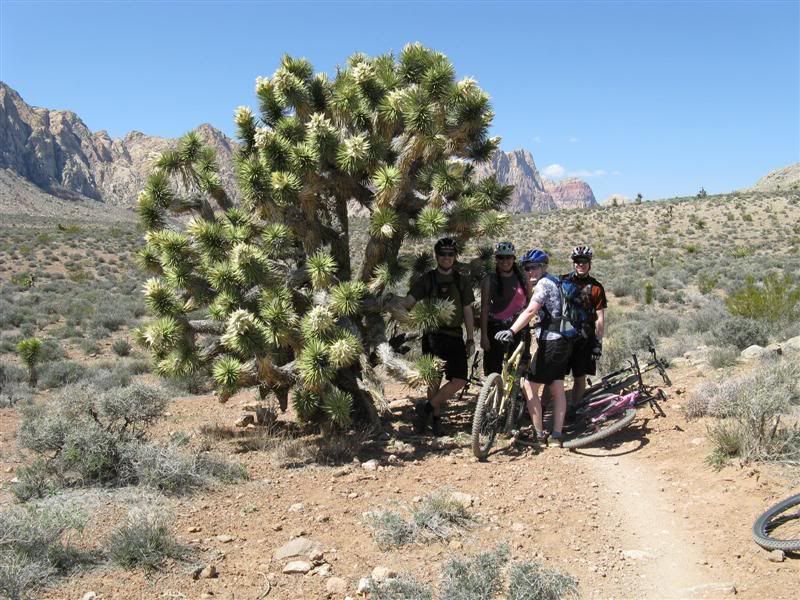 Day 2: Bootleg Canyon.
Day 2 started off with a little bit of a mishap (putting it mildly), meaning we didn't get to the rental shop until afternoon, and we didn't get the bikes we had hoped for. Craig and Fluid were on Spec Enduros, Ina on a Spec XC FSR, and myself on an Enduro SL, which I have to say was the most wooden, creaky feeling bike I have been on in a while. We met up with Connie's friend Brad and Kimber and started the climb at the hottest part of the day, fortunately, wind kept the heat down, but sunburn was a common theme that evening.
I started off rough with a bit of a nasty encounter with a thorn bush, but after that, no incidents. The terrain was a lot rockier and more technical with some good up and down techincal sections. The downhill was fast and flowy with some good pedalling in the middle, and everyone was grins at the bottom. Riding was similar to higher alpine riding here, lots of rock and gravel, and enough dust to keep traction down.
Kimber, Brad, Connie and myself went up to shuttle a second lap down the other side of the valley and hit up the Dual Slalom course.
Fluid on the first climb.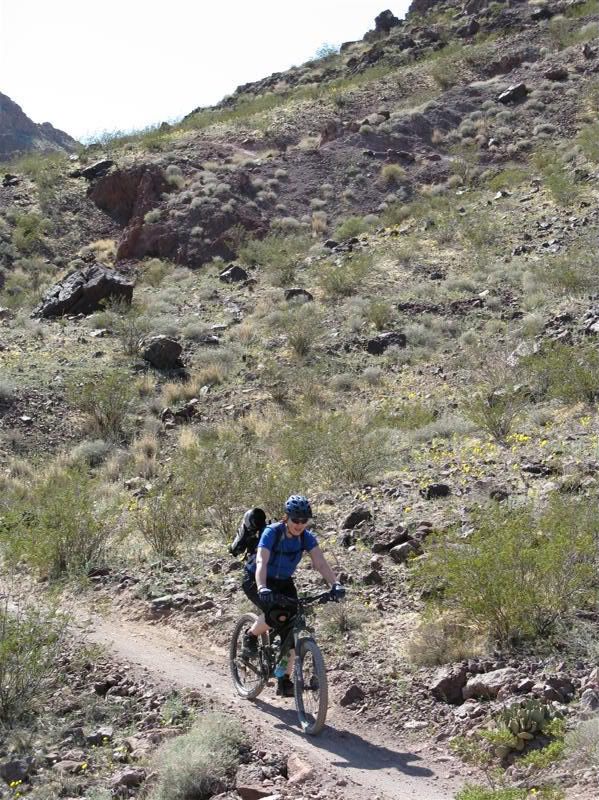 Kimber on a techy (especially with the seat all the way up) steep section.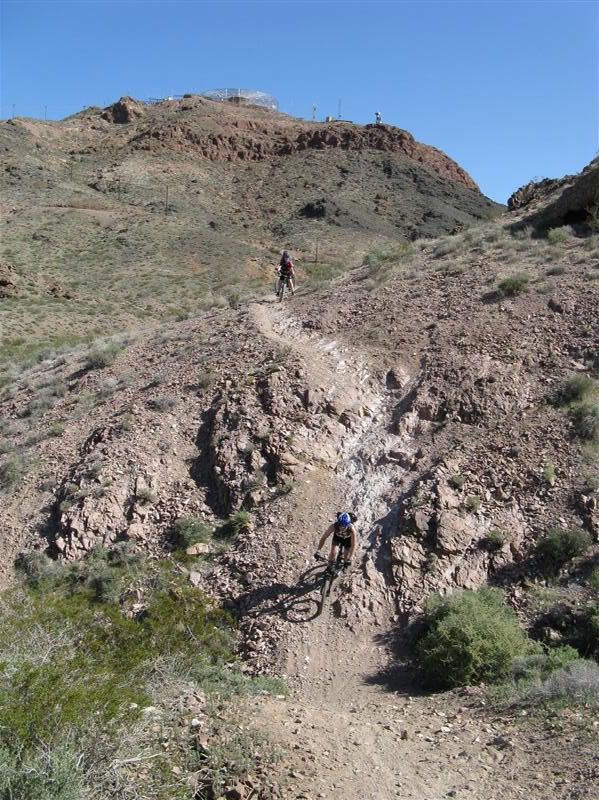 Being able to see long singletrack is a novelty after riding here: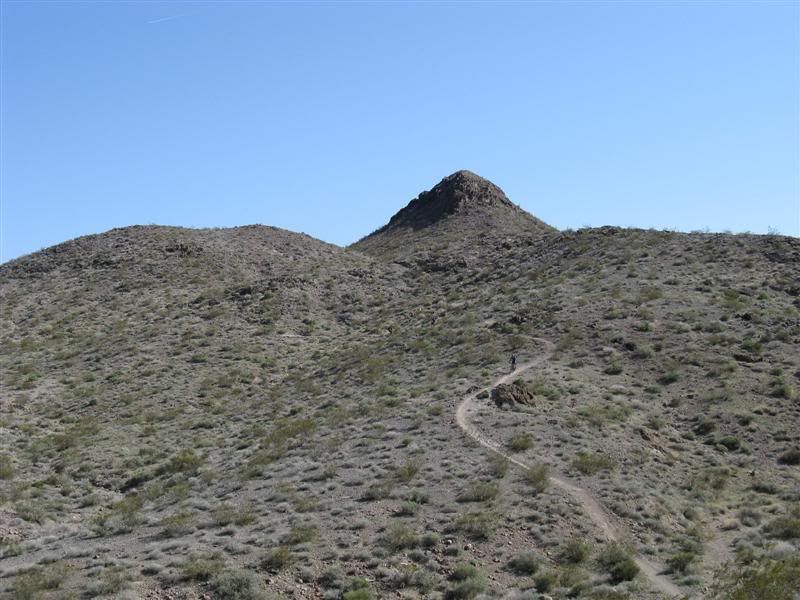 Fluid on the other side of a small valley from me.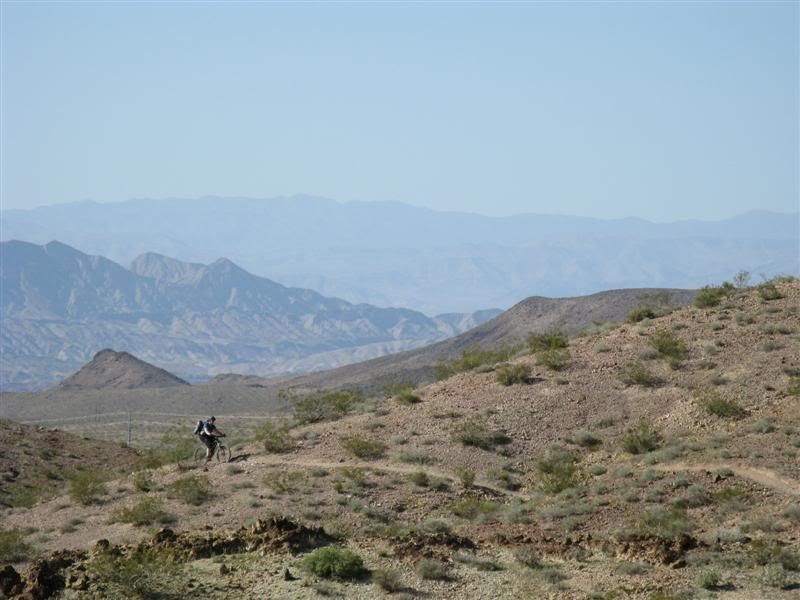 Nice views all around. You can't point the camera somewhere and not get a great view.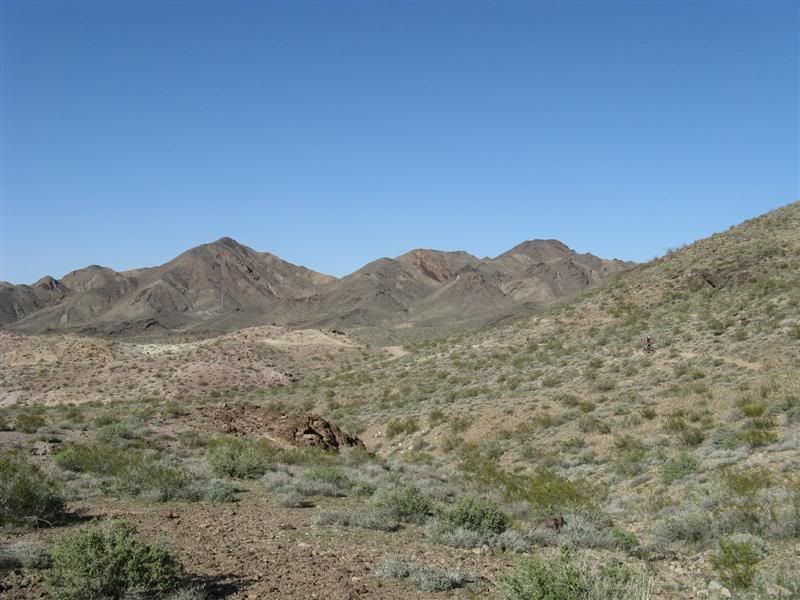 Day 3: Cowboy Trails, Red Rock.
By now, we were all getting used to the heat and altitude, so we went for a more serious day of riding on the rugged cowboy trails. We were back on the Blurs and armed with lots of tubes for all the cacti, and warned that a lot of the trails weren't XC bike friendly (like the Boneshaker), so we decided on the loop and set off knowing that we had limited time due to the bike shop closing early on Sundays.
The day was by far the most fun, the most scenic and by far the most unusual terrain we had encountered. The climb was quite challenging, lots of little techy bits where trials moves were a huge help to get over. we ascended to the top of the plateau, where I saw the only wildlife of the weekend, a small chipmunky rodent and a big rabbit that was faster than you can believe. We were expecting a downhill, but what we got was a technical 8" wide singletrack where we were dodging cacti and traversing ravines. We opted out of the last deep ravine and hopped onto a mining road and cut back for a super fast descent that would have put a smile on anyones face.
The best part: No wipeouts, and only one flat all weekend!
Fluid climbing at the start. You can see the highway behind her.

Fluid and Ina beside a dry, deep gulch. The wall behind them offered some much needed shade on the way down.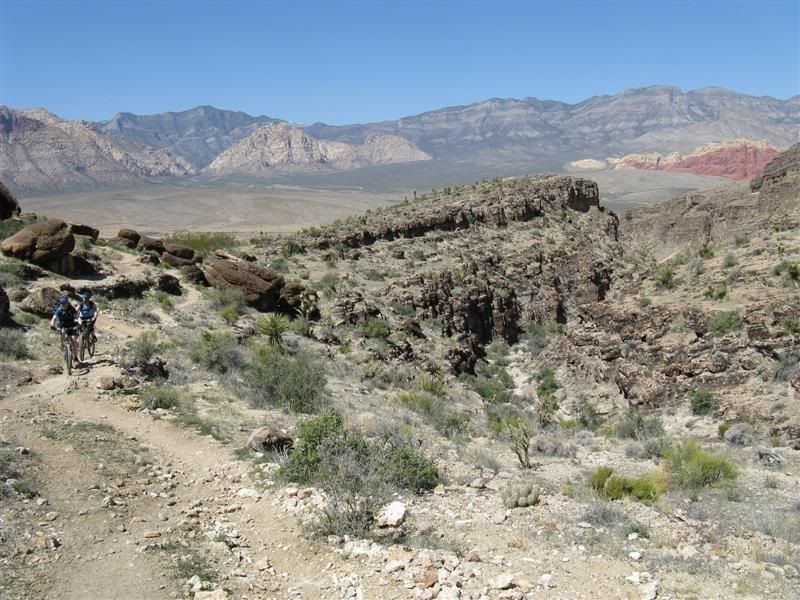 Fluid at the top of the plateau.

CraigH rocking some Gnar (by this trail's standards), near the mine tailings.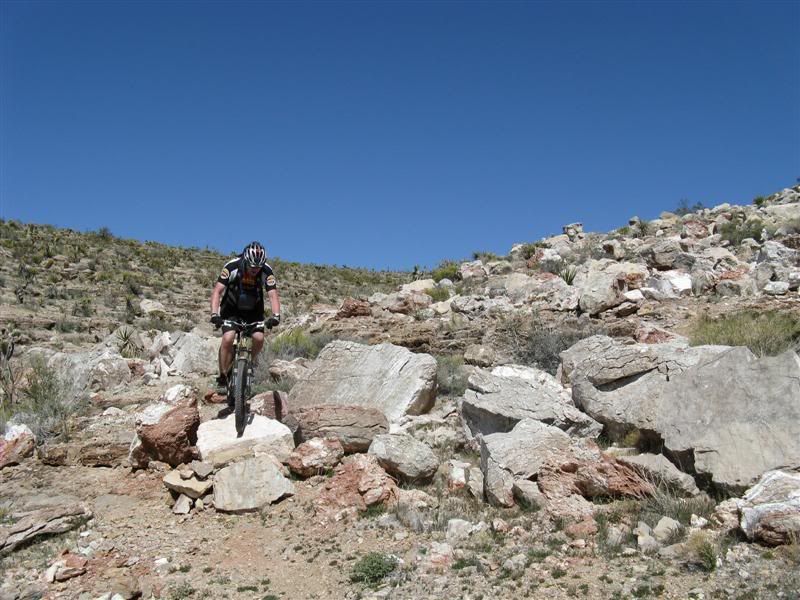 On the Moon, the large accumulated tailings from the nearby mine. Because everything grows so slowly, it will probably look like that for a century.

Last but not least, Fluid (rocking the switchback) and Ina on the descent, after this shot, the camera went away so I could enjoy the ride.