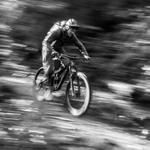 Posts: 8552
Joined: Nov. 15, 2002
I think it might make sense to draw a line in the sand so we don't have 31ers next year, but it's already ridiculous. Claudio Caluori is already saying that all the teams will now be scrambling to get big wheeled bikes ready to race ASAP - and he runs a team. 
It's too bad we didn't see what they could do on race day but first, third and sixth was pretty convincing for qualifying.
I've become a convert so I can see the appeal - and faster is fun for sure. 
And let's bring back skinsuits.