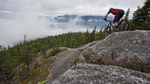 Posts: 2452
Joined: Jan. 8, 2004
If somebody come to a friendly fiver and is so competitive as to want to run up the course, well wow….
Does anyone have a 22 tooth chain ring I can borrow so I don't get ridiculed for walking up Stage 1?
Biking: As addictive as cocaine, twice as expensive!
:safrica: - :canada: