2015 wcdh

Posts: 6056
Joined: April 10, 2005
Can't think of anyone more deserving for the win.
Posts: 15019
Joined: April 5, 2007
Bryceland or Brosnan for different reasons. Serious, guy crashes and still finishes 6th. Bruni and Greg were two of a handful of guys that between Split 2 and the finish times ~1:05. Troy was a 1:10.
Oh well that is racing!
Double serving of BEER at 33 and 34th in the Mens!
Why slag free swag?:rolleyes:
ummm, as your doctor i recommend against riding with a scaphoid fracture.
Posts: 260
Joined: Aug. 8, 2007
Pretty cool, Loic's dad getting the 50-54 worlds gold on the same track a couple weeks ago with a time of 5:20:96
Anyone know where a guy could watch the last 10 riders?
Redbull took down the replay right as I was in the middle of Gutierrez's run.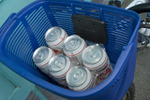 Posts: 7657
Joined: Feb. 15, 2005
Weird…all of the seasons World Cup races are still up…
I have 21,474,850 rep points...
My blog - read it!
Weird…all of the seasons World Cup races are still up…
Yeah it's strange. For some reason they announced that they were taking the replay down on the 9th, and the highlights will come online sometime later.
Bummed :(
Posts: 967
Joined: Feb. 28, 2014
I've been looking for a complete replay of the 2011 world champs where Danny won. Anyone?