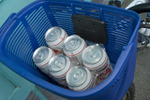 Posts: 7657
Joined: Feb. 15, 2005
today was awesome…4x4'd up the old road and worked the course over and then followed it up with a run at Hammerfest. sooooo much fun! gonna be a great day tomorrow!!

Props to all the clubs, volunteers, organizers and racers for making the Island series what it is!
LOL raining like a mofo right now. Not racing was the right decision! See you at Hammerfest!
I have 21,474,850 rep points...
My blog - read it!