Ride to the hills
Posts: 4006
Joined: Nov. 20, 2002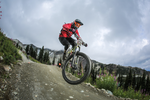 Posts: 148
Joined: Nov. 19, 2002
Posts: 4006
Joined: Nov. 20, 2002
Posts: 0
Joined: Dec. 23, 2011
Posts: 1081
Joined: Jan. 1, 2011
Posts: 190
Joined: Oct. 10, 2012
Just watched this on VHS the other day. That makes me feel so old.
I ride bikes, when I can.
Posts: 302
Joined: Jan. 21, 2013
I have been canvassing friends and family for a while, looking for a decent low-miles, lady driven VHS player so I can watch all the classics. I finally got my VCR, and Ride to the Hills was the first one I watched.
10/10, just like I remember it.
And, I forgot how much VHS sucks. Maybe I need a head cleaning kit like Blockbuster used to sell? Oh, and a tape rewinder to keep the wear off the VCR too!
Posts: 1022
Joined: June 26, 2012
That's sick! I remember watching this movie when I was a teenager in Montreal, dreaming of riding the Shore.
After moving to Van, I always thought the Aquatic Centre looked like one big wallride. I guess it's been done (30:17).