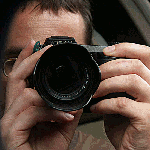 Posts: 367
Joined: Feb. 7, 2005
Haven't posted for a long long time ;)
So most of people use GoPro cameras to make movies but how about photo capabilities? Sure it is not digital camera quality but it's fun trying. Here are some pics taken recently:
Double-self potrait (GoPro hung on a tree and triggered via wifi)

Last but not least: to take such picture…

…all you need is do this :)

Enjoy!