Posts: 0
Joined: Dec. 5, 2006
Bahahaha saying he landed it is so Vish.
baahahahah laughing at, and criticizing people is so you
he did land it, he just bounced off… which doesn't count so who cares?
he held onto the fucken thing for 2 rotations and he "Landed" he was just unsuccessfull on riding out.
so funny when someone does something for the first time in history or attempts something they worked so hard for and finally throw it down but come up short a little bit, the couch potatoes and internet arm chairs sitting at home behind the safety of their sceens and comfort of their own judgement have nothing else to say but "didn't land it"
what else is funny is Ron thinking he know's me through a forum hahaha
Freeride, Its whats for dinner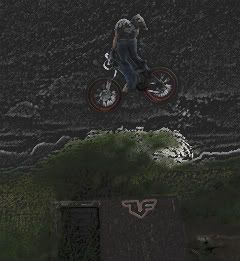 www.thevishfiles.com
www.ninjai.com
www.karmakula.com