Chris Duncan
Posts: 326
Joined: Jan. 30, 2008
Posts: 603
Joined: Oct. 29, 2007
haha that guy is unreal and has been popping up everywhere lately

WWLMMD?
Posts: 4924
Joined: July 10, 2004
that was fuckedddddd
i wonder if he is just sarcasming the fuck out of everyone
Posts: 8
Joined: Jan. 7, 2006
Posts: 2590
Joined: Nov. 28, 2002
Oh man, almost thought this story was about Chris Donahue. Good thing its not.
MSN me at: lordorange@hotmail.com
www.bigringbikes.cjb.net
www.cyberetrothreads.com

Posts: 1517
Joined: Dec. 2, 2005
Posts: 0
Joined: Dec. 5, 2006
Freeride, Its whats for dinner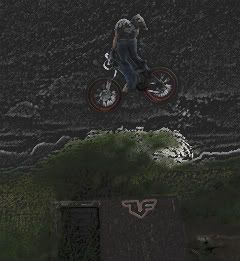 www.thevishfiles.com
www.ninjai.com
www.karmakula.com
Posts: 7594
Joined: July 25, 2007
adam's phone call was awesome too
pew!
Posts: 0
Joined: Dec. 20, 2002
Posts: 3840
Joined: March 10, 2006
pew!
I like how he does the 'quiet yell' for the whole clip. Like a teenage who had to wait for his parents to fall asleep before he could make a you tube video.
Posts: 0
Joined: May 6, 2006
one footer at 0:16 is so awesome.