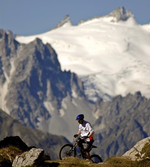 Posts: 1898
Joined: Nov. 23, 2002
Posted by: aShogunNamedMarcus

So what you're saying is it does say the test doesn't differentiate ? 
Nope. In a way you could say that the PCR test does differentiate because it can't find evidence of the influenza virus. That would be an incorrect use of the word differentiate though as differentiation means means being able to tell the difference between two or more things. As the PCR test only looks for one thing, it doesn't have to differentiate between anything else. Consider this analogy where goggles represent a way to test for viruses and apples represent viruses.
You walk into a produce store looking for apples wearing a specially designed pair of goggles that only allows you to see completely red apples. The apple section is filled with bins with all sorts of apples - red ones, green ones, yellow ones and even some mixed colour ones. The apples are all mixed up into different bins in various combinations. As you walk through the apple section the only apples you can see though are ones that are totally red due to the goggles you're wearing. What you see is that some bins have no red apples, some bins have a few red apples and some bins are filled with red apples. The green, yellow and mixed colour apples are there, but you can't see them because of the goggles. So in a way, the goggles can differentiate between red apples and all the other ones because they can only see the red ones, but they can't detect the presence of the other types of apples.
A week later you go back wearing a new and improved pair of goggles that not only allows you to see red and yellow apples, they also allow you to tell the difference between the two. There's a red light in the goggles that flashes when you see red apples and a yellow light that flashes when you see yellow apples.
If all you want to do is look for red apples, then the original goggles are still fine and work just great. If you want to look for different kinds of apples and be able to tell them apart then you can wear the new googles. Either way, if you want to find red apples you have a couple of different ways to do it that will work.
Like I said in a previous post, you have a comprehension problem of some sort going on here. I don't know what the cause is, but I think it would be worthwhile for you to consider it. Good luck.