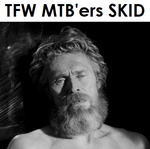 Posts: 2467
Joined: Nov. 23, 2002
Posted by: chupacabra

We were close twice, but maybe that is as good as it gets without closing the province off from the rest of the world. People couldn't even handle the masks so it would be next to impossible to maintain something like COVID zero for very long. The convoy is going to lose their truck nuts if we go back into full COVID mode now, so comfortable it is.
Like so many things in life, if everyone isn't on the same page then problems are bound to happen. I just hope that comfort today doesn't lead to disaster tomorrow. Another 3-4 years and we should know just what kind of a situation we are in.
Can't wait! /s
Last edited by:
syncro
on July 5, 2022, 4:26 p.m., edited 1 time in total.