Posts: 8830
Joined: Dec. 17, 2004
What vehicles have you owned. Whats their story? Heres my mine, you can just look at the pictures, or read it. I probably wont read yours.
Ill start from the beginning.
My racing career started a little after I turned 17. I was tired of hiding all the damage I caused to my parents cars, so I desided to start wrecking my own.
I purchased this bad boy. (Trying to mimick my dads "first car picture" from the 70s)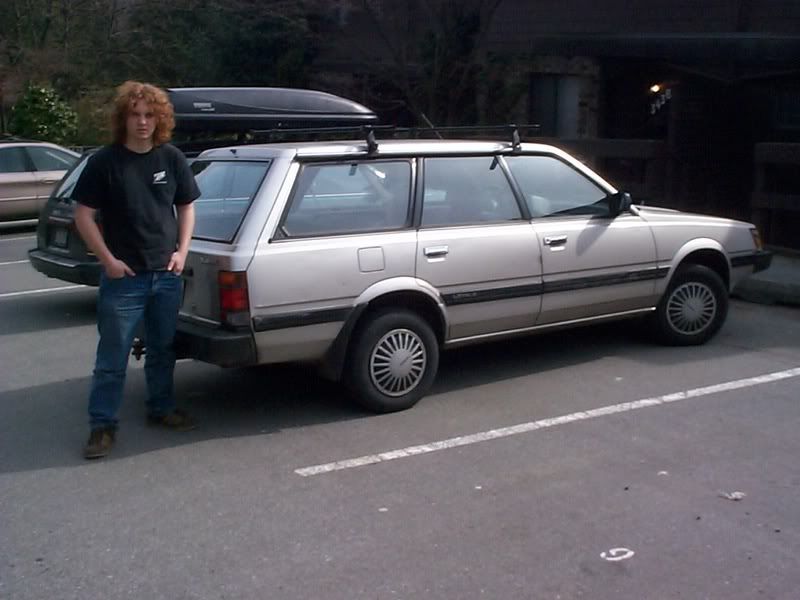 Its a 1991 Subaru Loyale. American import, it had 98 000 miles on it, 5spd, with selectable 4x4.I paid $1100 for it! A real mans car. It did 0-60 in about 16 seconds, 1/4 miles in around 30 seconds. But you couldn't slow those little 13"s down. At 180-190 kms/hour down the island highway, it felt like I was surfing a concrete wave caused by "The Big One".
Anyway, it didn't take me long to wreck that car, and not from an accident.

Dave has a couple pretty respectable pictures from the Triple Crown Ripper 2 years ago. They may turn up. Anyway, Sold it too some dude from Williams lake for $800 as is. But only because I had already aquired my newest whip!
Enter: 1985 Ford F250.


This thing was a piece of shit. Sure, on paper it looked great! 198 000 kms, 4speed standard, 4x4, stock on 31s, Fuel Injected 302…. But none of that mattered. I paid $2000 for a good running truck. Lost another $3000 trying to keep it a good running truck.
Here it is in North Van!


I ditched it here for 2 weeks because I couldnt afford to tow it home. Double parked in, slashed front tires, not running. Me and a buddy got it going at 5am and did a quick lawn job before we left. Driving it on rims to a tire shop. I sold it for $500.
After enjoying at least a couple weeks with the Ford, I could be heard saying, "I will never drive anything but a v8 again" So….. I bought a 1976 Buick Century from Knowles on the board. $275 and a set of Hope M4s.


Not much to say here. It had a 350/350 combo. All leather interior, rallye wheels, rallye steering wheel, t-tops (leaky), floor shift, buckets. Was a pretty fly ride. Nothing bad ever happened to me in it except losing the brakes once. I sold it because something was missing in my life, subaru….
ENTER! 1993 Subaru Loyale 2
I dont have any picture of what it looked like when I first got it, but it was actually pretty nice. It was a dark charcoal color, 260 000kms, 5spd, 4x4. The interior was absolutely mint. I said to my friends, "Im going to keep this one nice, real nice, I promise". I'll let the pictures explain what happened.

Ya I wrecked it. Best $750 I ever spent.
I the middle of the 2nd subaru dynasty I somehow for some reason purchased a 1979 Dodge 200 Camerized Van from my dad. It looked like EVERY other camper van, light brown/tan colour. Some nifty stripes down the side. And rusty. So I made it unique. I still havent finnished it, maybe one day Ill put a spoiler on it.


In case you want to know about the supplies behind the masterpiece, a litre or two of tremclad flat black canned paint, rollers, trays, no masking tape, beef jerkey and presidents choice cola.
I used the Van a ton over the summer, saved 1000s of dollars in accomidations and provided a pretty pimp base camp for race weekends in far away places. The suby was still getting abused, still running, still ugly.
This is where the surrey stage of my life begins. Im just fighting out of it now.
I went and bought a dirtbike I only rode around my complex with my skate lid, wife beater (way to small), and track pants.

Still, I wasn't surrey enough for my poor nabours. (Town house complex btw).
I went and spent $200 on this baby.


1987 Volkswagen Fox. 2 Door coupe, 4 spd, blown struts all the way around.
Thank god for devine intervention, I almost became a volkswagen guy. So close. One day I woke up and realized thats the worst car Ive owned. That was about a month ago. Its for sale for $200 without the wheels. I put a $350 new exhaust on it. Thats it.
Heres my new baby, I PROMISE I'll keep this on nice. I swear.
1987 Subaru XT Turbo GL-10.

To be continued…..