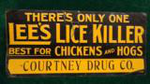 Posts: 1438
Joined: May 23, 2006
Posted by: chupacabra

Trump has known dove and peacenik John Bolton as his National Security Adviser.
"Mick Mulvaney, Trump's chief of staff, has very quietly and discreetly begun informal meetings with a list of a half-dozen possible replacements for Bolton." - https://consortiumnews.com/2019/06/12/john-boltons-long-goodbye/
I always thought it was a real tragedy that Miroslav Satan never played for New Jersey.  
I already heard that one on the tee vee.
Last edited by:
tungsten
on June 12, 2019, 11:55 p.m., edited 1 time in total.