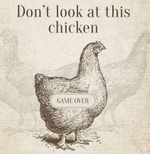 Posts: 2382
Joined: Nov. 23, 2002
Posted by: ReductiMat

Holy fresh hell, it's almost like they're trying to destroy their party.
Sad that one of the major political parties in Canada thinks this is acceptable messaging. The misogyny is appalling. 
On that other thing, you think Trudeau isn't some of those things whatsitsname said? The longer Trudeau has been in power the more his deceit has been exposed. Of course it's not like the Cons are really any better either as evidence by that ad. I don't think the Greens can run enough candidates to even form opposition, never mind that far too many Canadians see them as irrelevant. Plus their leadership is in shambles. And of course the NDP is far too "socialist" for most on the political right. Although Singh has an opportunity to make himself appear to be the best leader of the bunch, he also comes off as opportunistic which is a big drawback. It's scary that with the amount of choice we do have that nobody seems like a viable choice.