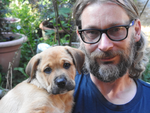 Posts: 8287
Joined: Nov. 20, 2002
Posted by: chupacabra

Posted by: syncro

Who are you in this pic?

Did anyone else get one of these shitty bikes back in the day?  While all my friends had a proper BMX my absentee dad bought me 2 of these goddamn tanks during his flyby visits from Ontario.  They must have weighed 100 lbs.
Yup. But they just ate staircases. I took the gas tank off mine. It still ran without it.