Posts: 12081
Joined: Nov. 19, 2002
I am sure a few of you will get a good laugh out of this… But I'm pretty frackin pissed right now.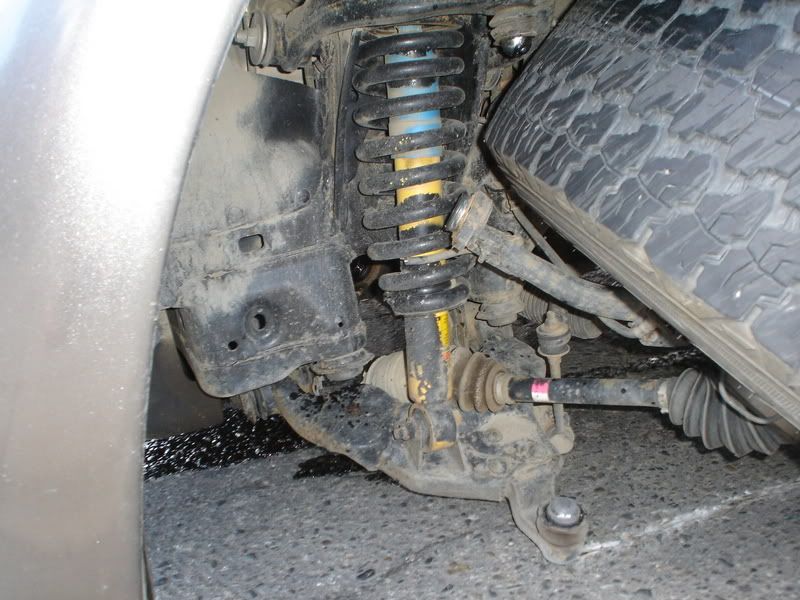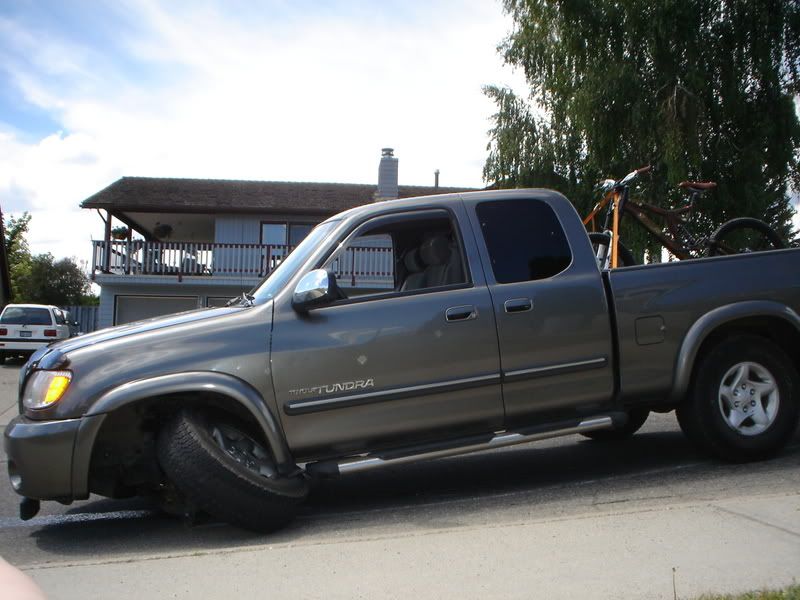 Seriously just driving along, and the "lower ball joint just dropped out" causing the tire to get ripped underneath the truck, and left me skidding along for a good 70ft. I had just gotten off the highway and was heading for a ride with sheffy. If this had happened on the highway, I woulda been in a heap more pain.
This taken right off the website… it came out in January, and I was just starting to feel the symptoms.
**FROM TOYOTA
2004 TOYOTA TUNDRA Recall ID from NHTSA: 07V013000
Auto Recall Date: 20070119
Vehicle Component: SUSPENSION:FRONT:CONTROL ARM:LOWER BALL JOINT
Estimated Vehicles Affected: 533124
2004 TOYOTA TUNDRA Defect Summary:
ON CERTAIN TRUCKS AND MINI VANS, DUE TO POSSIBLE IMPROPER FINISHING OF THE FRONT SUSPENSION LOWER BALL JOINT, SOME BALL JOINTS MAY EXPERIENCE AN INCIDENTAL DETERIORATION OF THE INTERNAL LUBRICATION. THIS MAY CAUSE THE BALL JOINT TO WEAR AND LOOSEN PREMATURELY, WHICH COULD RESULT IN INCREASED STEERING EFFORT, REDUCED VEHICLE SELF-CENTERING, AND NOISE IN THE FRONT SUSPENSION.
Defect Consequence:
IN EXTREME CASES, IF THE VEHICLE IS CONTINUOUSLY OPERATED IN THIS CONDITION, THE LOWER BALL JOINT MAY SEPARATE FROM THE KNUCKLE AND COULD CAUSE A LOSS OF VEHICLE CONTROL.
Remedy:
DEALERS WILL REPLACE THE FRONT SUSPENSION LOWER BALL JOINTS. THE RECALL BEGAN ON FEBRUARY 28, 2007. OWNERS MAY CONTACT TOYOTA AT 1-800-331-4331.
Notes: TOYOTA MOTOR CORPORATION, 70B**