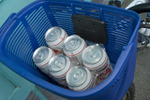 Posts: 7657
Joined: Feb. 15, 2005
Funny thing…I was in the library the other day, and flipped through Lemonaide.
Seems that Taco's aren't recommended. In fact, they were listed as average and below average LOL
In fact - the only light truck that guy likes is the Nissan! My personal beef with Nissan's is the massive centre console. I had a 91 Pathfinder, and never like my legs being pinned together. I checked out a newer Frontier and same thing - massive centre console - no ball space.
My truck - the newest Canyon / Colorado (think updated S-10) wasn't even in his book!!!
Didn't see what he said about the Ranger / Mazda but anecdotally everyone I know who has one still does and they seem to go and go and go…
I have 21,474,850 rep points...
My blog - read it!