Posts: 219
Joined: Jan. 9, 2003
Example of Un-1 AKA Marc Stokes Performing: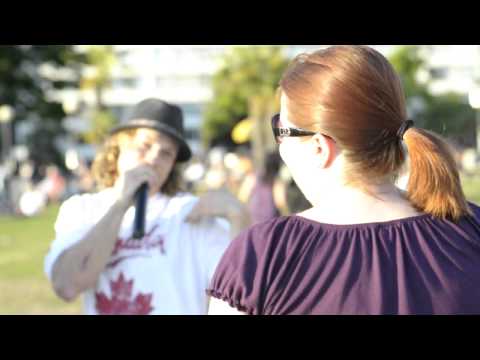 https://www.youtube.com/watch?v=HQlbxDgnmk0
Petition:
http://www.petitiononlinecanada.com/petition/help-un-1-regain-his-right-to-perform-music-on-the-streets-of-vancouver/752
Website:
http://www.un1music.com/
Un-1 aka Marc Stokes, a Canadian Freestyle rapper from Vancouver BC, recently received this voicemail:
http://www.un1music.com/album/Voicemail.mp3
Granville Street is the loudest street in our city, it is Named the Entertainment District, and is the perfect venue for outdoor music in Vancouver. English bay during the day time, with quieter volumes is also a wonderful outdoor venue for music and street entertainment that is enjoyed by many.
Un-1, or Marc Stokes has the birthright, as do all Canadian Citizens to Gather peacefully and to express himself freely as stated in the charter of rights and freedoms:
"CANADIAN CHARTER OF RIGHTS AND FREEDOMS
Whereas Canada is founded upon principles that recognize the supremacy of God and the rule of law:
Guarantee of Rights and Freedoms
Rights and freedoms in Canada
1. The Canadian Charter of Rights and Freedoms guarantees the rights and freedoms set out in it subject only to such reasonable limits prescribed by law as can be demonstrably justified in a free and democratic society.
Fundamental Freedoms
Fundamental freedoms
2. Everyone has the following fundamental freedoms:
(a) freedom of conscience and religion;
(b) freedom of thought, belief, opinion and expression, including freedom of the press and other media of communication;
(C) freedom of peaceful assembly; and
(d) freedom of association."
Source, Government of Canada's webpage:
http://laws.justice.gc.ca/eng/charter/page-1.html#l_I:s_2
If you have ever been entertained by Un-1, if he has ever made you smile, then please support him now so that he may again earn his living from busking on Vancouver streets. Please sign this petition to inform Mayor Gregory Robertson, that the City of Vancouver wants Un-1 to be able to perform with Amplified Vocals, Amplified Guitar, and Amplified Saxophone as it is part of his Unique Brand of Music on Granville Street(Hours 10am-10pm Sunday-Thursday, 10am-12pm Friday and Saturday) and at English Bay( Hours 10am-10pm Daily).
"Thank you for your support, I promise to continue my focus on creating positive music that supports my community"