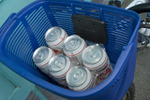 Posts: 7657
Joined: Feb. 15, 2005
Didn't see this on here yet, but our Minister of Defence, Rob Nicholson, has decided to take pot shots at General (Retired) Andrew Leslie. I served under him in 1 Canadian Mechanized Brigade Group when he was the Brigade Commander - nothing but respect for him.
http://www.ottawacitizen.com/opinion/columnists/revealing+attack+Andrew+Leslie/9517123/story.html
I've already emailed the Minister and will also write my MP. Total bullshit.
The "move upon retirement" has been standard procedure forever.
I have 21,474,850 rep points...
My blog - read it!