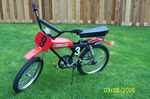 Posts: 3602
Joined: Sept. 27, 2004
Reviving this thread as i had to get a New to me truck after a Taxi cab changed directions in front of me and wrought off my 2003 Ford Sport trac. RIP red Ford, you were a good "truck" I won't miss your squeaky brakes though, and your never adjusted right drum parking brakes.
I bought a 2013 Nissan Frontier PRO-4X 4door short box. It has a front leveling kit and Goodyear Duratrac 265/75R16 tires on it. The tire's suck in the rain, and the truck is harder on gas than the Ford was. Both have 4.0L V6's and 5 speed Auto trans. Nissan has a lot more get up and go, and the Suspension and overall handling is miles better than the old Ford ever was.
Now I want to get back into outdoor adventures, I used to wheel alot back in the day when I lived in Nelson with my old Blazer, so I might start hitting up some of the roads mentioned in this thread.
Chainsaw Check
Gas Can Check
Tow rope Kinda, but it's short and sucks.
Jack Check
GPS and Maps Check
Know where I'm going …… nope but that's part of the fun isn't it.
"X is for x-ray. If you've been bikin' and you haven't had an x-ray, you ain't goin' hard enough." - Bob Roll