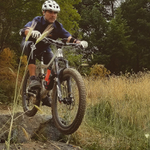 Posts: 1234
Joined: Sept. 10, 2012
Posted by: jgshinton

What do you guys do for fun when you aren't cycling? 
Ha! Well first there is a lot of cycling, Then there is skateboarding, trail running, walking, pickleball, falling off a unicycle, hanging out with friends, pubs, coffee shops, playing games, chilling at home...I mean I could list another 30 things. The Comox Valley has a population of ~67K so there are lots of humans to do stuff with and a huge amount of outdoors space to play in. 
I run out of time and energy before I run out of stuff to do each week.