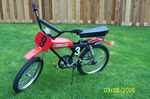 Posts: 3602
Joined: Sept. 27, 2004
Posted by: Adam-West

Short beds more than enough room for me.. I'd rather have the 4 doors than the extra box space cause I don't need to haul that much crap.. and the 4 door long box just looks too long and cumbersome.
This is the same for me. I max out my bed less than %5 of the time I drive the truck. Nissan Frontier CC PRO4x.