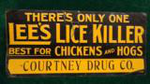 Posts: 1432
Joined: May 23, 2006
Any obvious pitfalls/brands to avoid for a newb looking to buy?
Just need to surf, mail and high res vid viewing.
".....with a malevolent fascist swine atop its titular apex, the pitiful wounded beast of a rotten, spiritually dead American Superpower is careening towards epic barbarism while pushing the species dangerously to the tipping points of extinction."
Last edited by:
tungsten
on March 14, 2017, 11:03 p.m., edited 1 time in total.