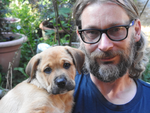 Posts: 8284
Joined: Nov. 20, 2002
How's everybody livin?
Long time. Been locked up in my studio making stoner rock.
https://soundcloud.com/stoned_prophet
Still a few issues in some songs, but I thought I would share for amusement purposes. Feel free to bash, comment, slag, insult etc.
Love,
Putty
Well, well I been movin' down to Florida.
And I'm gonna bowl me a perfect game.
Well I'm gonna cut off my leg down in Florida, child.
And I'm gonna dance one-legged off in the rain.