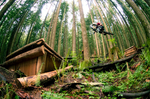 Posts: 2043
Joined: Jan. 5, 2010
NBR has been great with restaurant advice, so I was wondering if you could recommend restaurants that accommodate a gluten allergy. I'm not the one who's allergic, but I do foot the bill so cheaper restaurants are my favorite. I'm not opposed to paying more if the food is good though.
My favorite so far has been Bandidas because almost everything on the menu is gluten free and the price is right. I'm a fan of the atmosphere too. The only problem is that I can't keep taking my girlfriend out for Mexican food.
We've put away a fair amount of sushi between us as well and have a favorite restaurant for that, but it also becomes repetitive.
I've tried Burgoo and they were great at letting us know what was gluten free, but the options were limited and the price to food quality didn't stoke me out. Good food, but priced a smidge on the high side in my opinion.
Since I'm making a list, Red Robins, Montana's Grill, and the Keg were all restaurants that my girlfriend chose to go to that worked for her too.
Anything else to go try?
I'm pretty much open to anything in/between North Van/Van to Mission/Abby. Where can I go and get good gluten free food?