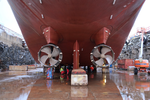 Posts: 57
Joined: Aug. 8, 2012
Nice pics Syncro! that makes me happy.

I'd like to share yesterdays experience with you all.

I went up Kings peak yesterday with some friends, and it turned into a sobering experience I'll never forget. As we were coming back down from the summit a lone orange dot near the top of Kings peak north ridge cliff caught my eye. We were on the north west side of queens peak ridge probably 1 Km away from the north ridge of Kings. The ridge the guy was on is probably a good 100M - 150M high and he was within I'd say 10 M of the top. My first thought was "Oh cool there's people climbing up over there that's awesome."

So I wait and watch for a while and the guy wasn't really moving anywhere and I couldn't see his climbing partner. Then just as I start to clue in to what's happening he must have seen us and started yelling. At first I thought he was yelling at his climbing partner but weren't sure, then we hear it. "Help! S.O.S Help!" Our hearts sank, this guys completely fucked. We quickly call Search and Rescue because to our disbelief we had spotty cell coverage at the spot we were at. Cant get through to SAR, call 911 and get through explain our situation to the best of our abilities and they say OK someone will call you shortly stay where you are. Now 15 Minutes have elapsed since we called 911 and still no phone call, the guy is still periodically yelling for help clearly in shock and distress, we've repeatedly tried to yell back to him that we are helping they are coming but we don't think he can hear us because of the way the wind was blowing or perhaps the other cliffs are bouncing our echoes. The wind stopped shortly after and we all heard him yell "I think my friend is dead" We then called 911 again gave them an update on whats going on and told them we had to head down now for our own safety as we did not want to hike 5 hours out in the darkness and there really wasn't much more we could have done. We finally were able to communicate with the stuck climber that help was on the way by yelling as loud as we possibly could and one word at a time. We hear back a quiet "Thank you" and we made our way off the ridge back into shade and down off the mountain.

It was probably two and a half hours after we called that we heard the first helicopter approach to do a reconnaissance flight of the situation. I have just found out from the RCMP that phoned me they did get the stuck climber off the mountain later that day, so at least he's safe, but his friend not so much.

I feel really terrible for this poor guy and what he had to live through and now undoubtedly the guilt and pain he has to live with for the rest of his life, even worse the family of his fallen friend. It's a terrible feeling hearing such distress calls, being right there, so close yet so far and completely helpless. Makes me think how we all say it won't happen to me, accidents happen to other people who are careless… How do you rationalize the risks we take for fun? I like to tell myself "Hey at least he died doing what he loved and not at work or some other stupid reason to die." Is it worth it to continue doing what I'm doing? I never want to put my friend and family, or even complete strangers through that type of an ordeal..

Heavy stuff. Im also torn on the appropriateness of posting the pictures from the hike before all of this went down I think I'm going to because it's probably now my mountain views and hiking I've done on the island and I don't think it would be disrespectful of me to post them up. Maybe this post was more for me to help understand than for you to hear.

Stay safe out there folks, and tell everyone you love them.
Kings is probably the most rewarding easy (nice trail) day hike on the island in terms of views. Good thing you spotted buddy in distress and investigated and didn't just push on past. There is usually enough cell coverage on the higher central island peaks to at least get a text out from the summit, but I will be picking up a PLB soon.
Accidents can happen to anyone anywhere. I've definitely dialled down the risk factor the last little while having had a few close calls myself, both on my bike and in the mountains a number of years ago. I take every step possible to minimize and manage the risk including proper route planning, the appropriate gear, experience, right weather, etc. and if you get over your head turn around. Still I could make a mistake, but I'd rather not sit on my butt the rest of my life afraid to leave the confines of my home. Know your limit, play within it.