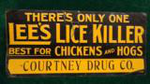 Posts: 1262
Joined: May 23, 2006
"Upwards of 3,000 barrels of oil - about 470,000 litres - leaked Thursday from Plains Midstream Canada's Rangeland Pipeline into Jackson Creek, a tributary of the Red Deer River near Sundre.
Johnston said he had 165 head of cattle on his land, but another spill in the mid-90s and increased oil production forced him to find new grazing grounds for his cows.
"I can't raise beef here anymore because there's too much oil activity," he said. "
http://www.sunnewsnetwork.ca/sunnews/canada/archives/2012/06/20120610-091508.html
".....with a malevolent fascist swine atop its titular apex, the pitiful wounded beast of a rotten, spiritually dead American Superpower is careening towards epic barbarism while pushing the species dangerously to the tipping points of extinction."